In short: Yes!
Lynx is available in multiple languages. The steps for selecting your preferred language are as follows:
Select Choose language via Help:

This will open the following screen:

Translations are available in two categories:
Validated translations: the translation has been checked and validated by one or more moderators
Beta translations: a beta translation is the result of an automated translations process for which we use a translation engine. The translation result is understandable and doable, but definitely needs updating and reviewing by a moderator and native speaker
Validated translations
Once you have selected the language of you choice, Lynx will automatically close
Once you have selected your language Lynx will automatically close and restart, loading the selected language. In this example this is Lynx auf Deutsch:

Beta translations
If you rather choose another language. You can select the box Beta languages, which shows a list of multiple other languages. After selecting your preferred language, LYNX restarts and reopens again in your preferred language.
In this example Traditional Chinese is selected: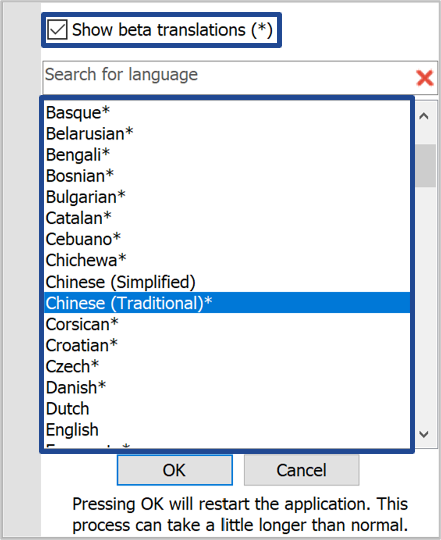 Selecting and confirming Traditional Chinese, Lynx reopens in a translated version of Traditional Chinese:

(Beta) Language validation and moderation
Currently, LYNX is available in the following languages:
Chinese (simplified);
Dutch;
English;
French;
German;
Italian;
Russian;
A-dato is working with its customers and partners to improve and upgrade the available translation, in the role of moderator. Users with the role of moderator can improve and update translations.
If you are interested in helping to improve the translations and promoting a language of your preference to a validated and standard language, please contact us by sending an email to support@a-dato.com.
Visit also this section to learn more about the updating and improving of translations in the role of moderator https://support.a-dato.com/hc/en-us/sections/360006391594-LYNX-Space-Configuration-