Introduction
This article helps you to get started with LYNX for Critical Chain Project Management (CCPM). The following topics will be addressed:
Downloading LYNX
Registration and login
Basic configuration
Create your first project
Executing the project
Tips and tricks
You can also download the "Get started" PDF manual added at the bottom of this article. The PDF is a summary of this article and provides a visual overview.
This manual address the basic configuration to get going and helps you to add and release your first project.
Also refer to the article: LYNX Overview: Setting the Scene. Here you will find some background information on the underlying theories of LYNX.
Download LYNX
In order to use LYNX, you can download LYNX via https://www.a-dato.com/download-lynx/.
LYNX is supported on Windows and can be run on a Mac by installing a cross platform tool, like Parallels.
Registration and Login
Create your Account
To start using LYNX you have to register as a user. You can either register as a new user or login by invitation.
Register as new account and first user
After you have downloaded LYNX for the first time LYNX will ask you to register.
As a result of the initial registration process a "Default" workspace is automatically created, and as the first user you will become the "Spaceowner" for your "Default" space.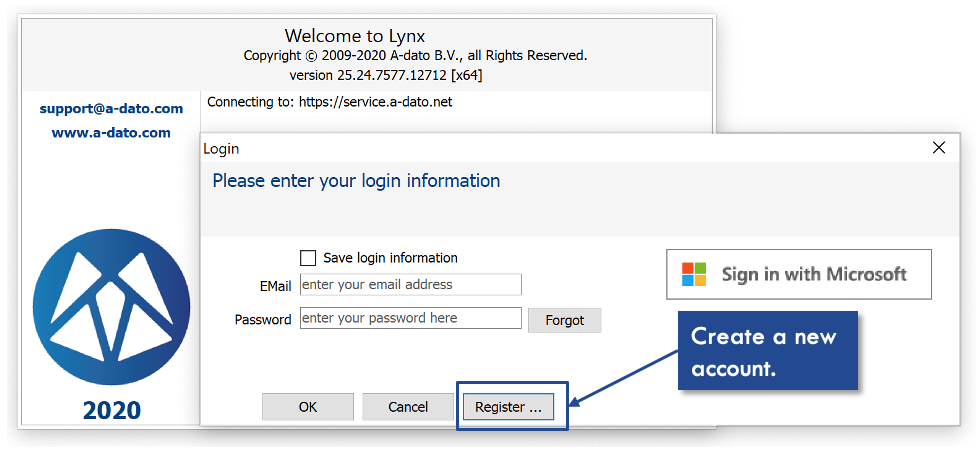 After selecting "Register" you will be asked to update your profile and set your password.

After registration you can login with your email and password: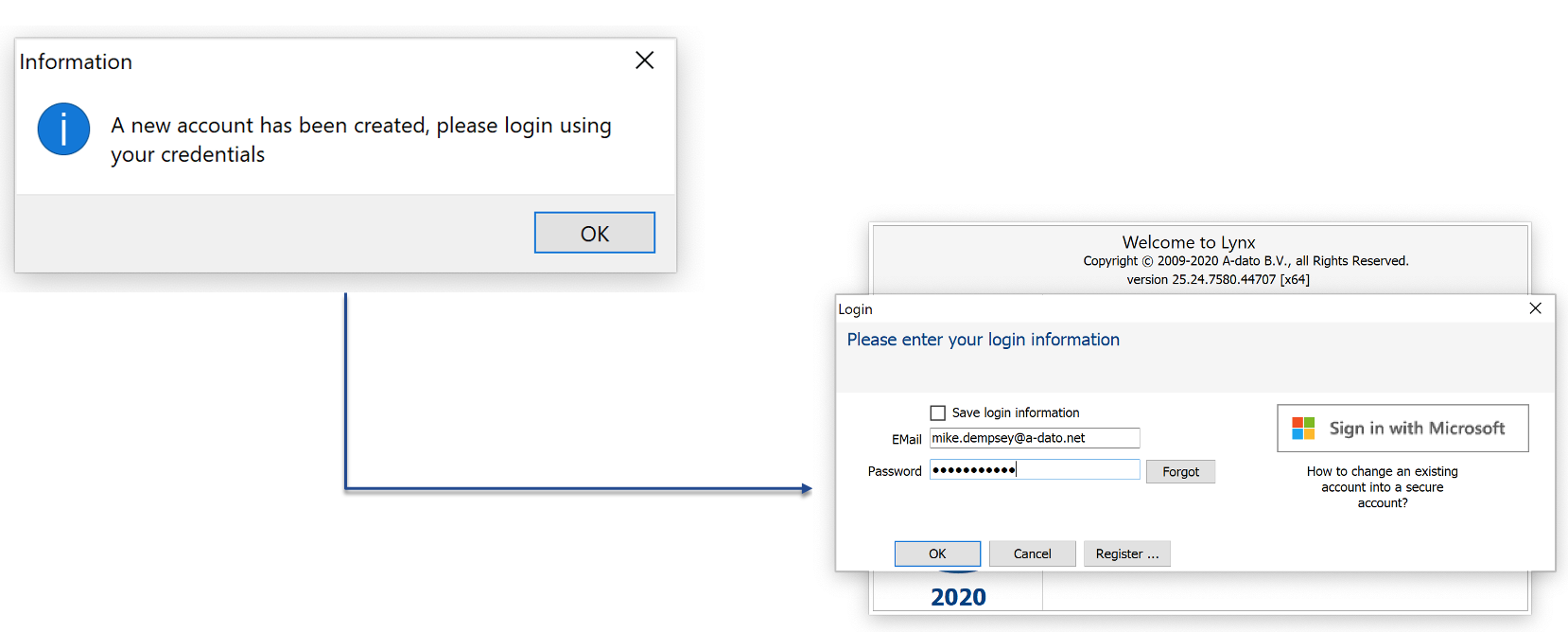 Your first screen and workspace ("Default")
Once you have registered, LYNX has automatically created a "Workspace" for you, with the name "Default" and in the role of "Space owner".
In your workspace you can add your projects and the typical skills and resources (the resource / skill matrix) that would be assigned to projects and tasks.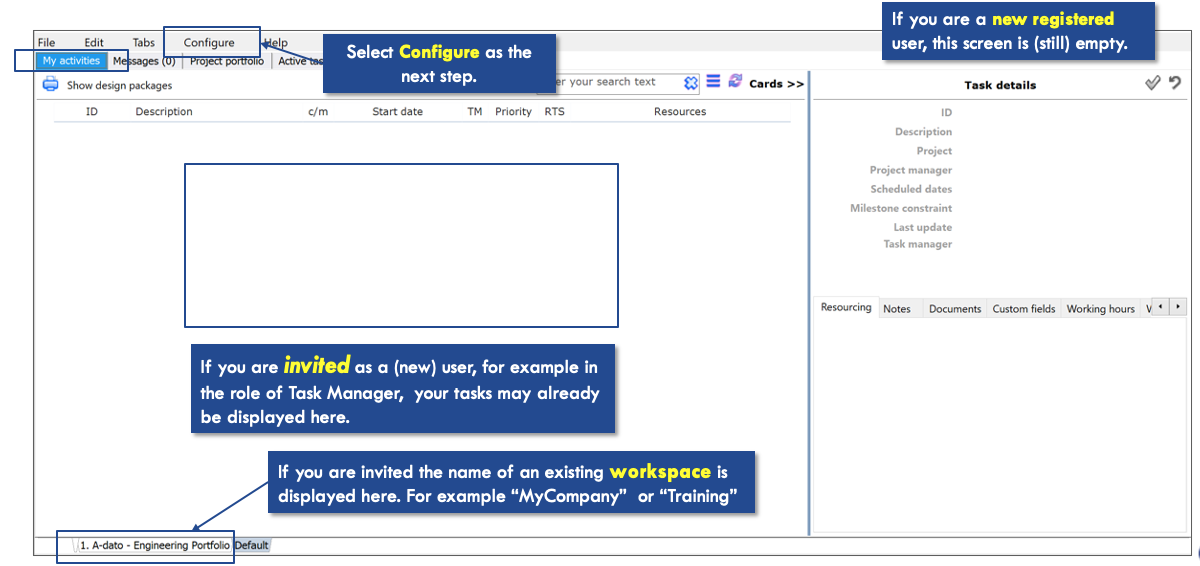 Explanation:
Your first screen after starting LYNX is always the "My activities" screen. This is still empty when you enter as a first new user.
At the bottom of the screen the active Workspace is displayed. In this case the workspace "Default" is automatically created for you.
If you are invited as a user the name of an existing workspace is displayed. In this example, A-dato Engineering Portfolio.
Go to File → My profile. Here you can change your profile and also your password as is displayed in the picture below: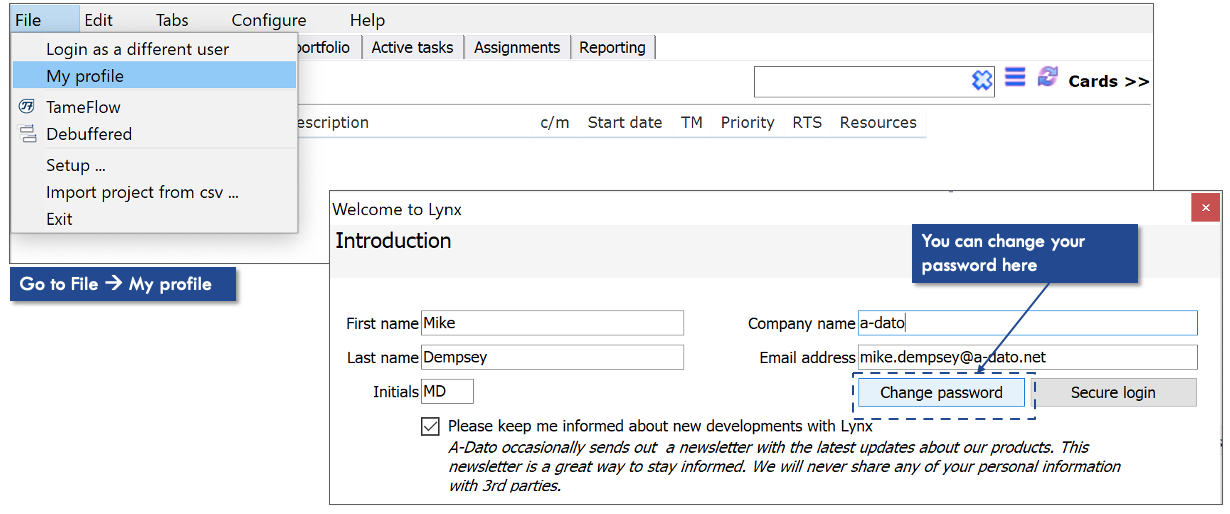 First user always receives the "Space owner" role
As the first user for a workspace you will automatically receive the "Space owner" role for your "Default" workspace.
You can review this via the "User/login" table as shown in the following picture: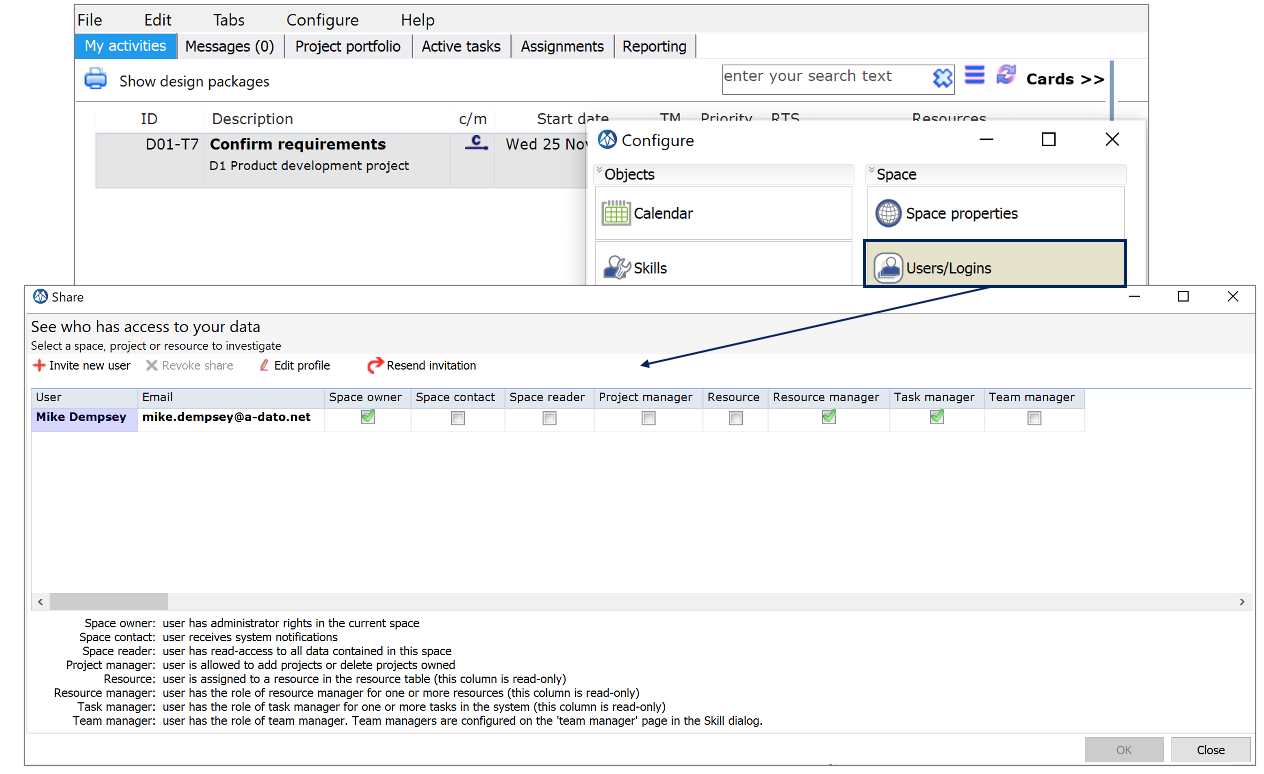 Login if you are "Invited"
Most of the users in LYNX would become a new user through the sharing and invitation process and workflow. In this case you don't need to create an account: this is already done for you when you were invited by another user (e.g. Space owner).
In this case there is already a "Company" workspace and also a "Space owner" (typically the portfolio manager or system admin) who is sending out the first invitations to colleagues and team members inviting them to join the "Company" workspace, and in a specific role (e.g. Task manager, Team manager).
Invitation by Email from A-dato support
When you are invited to become a user in an existing workspace, you will receive the following Email: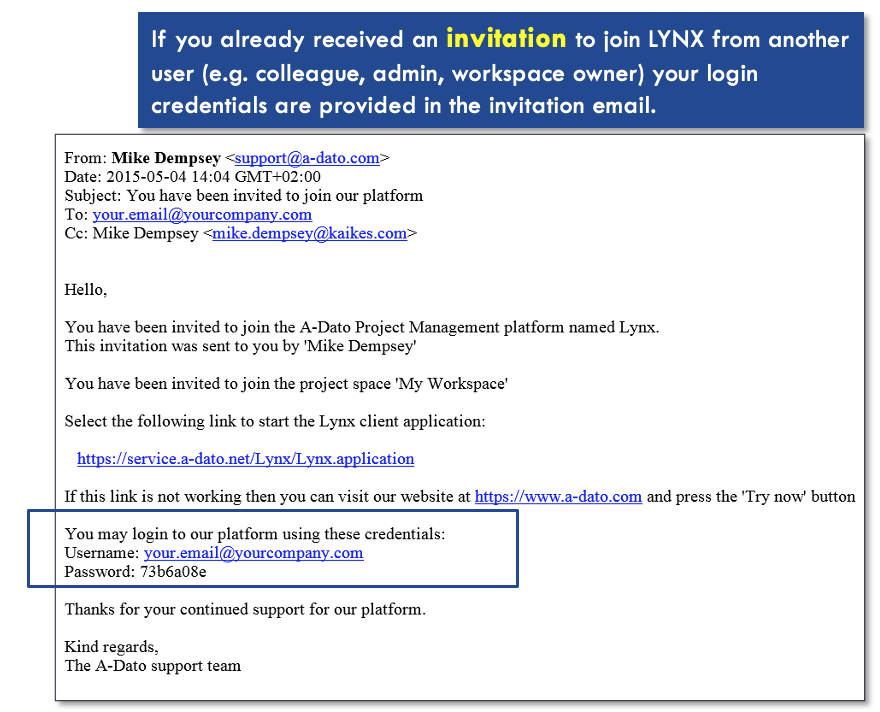 After starting and installing LYNX, use your credentials to login: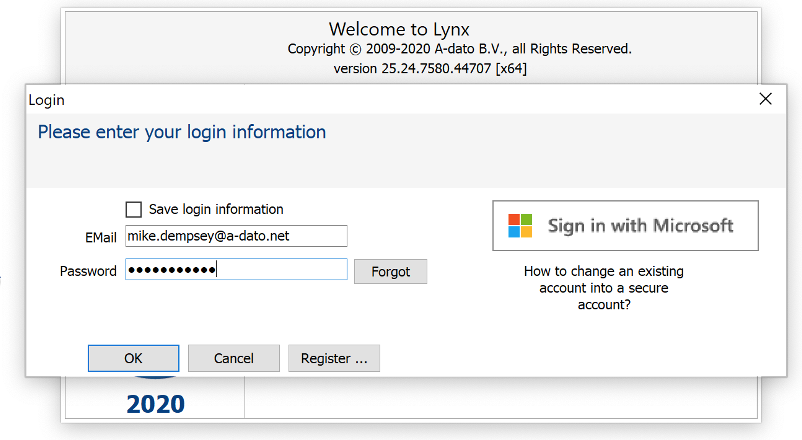 Your first screen after invitation
After you have logged in the following screen will be displayed: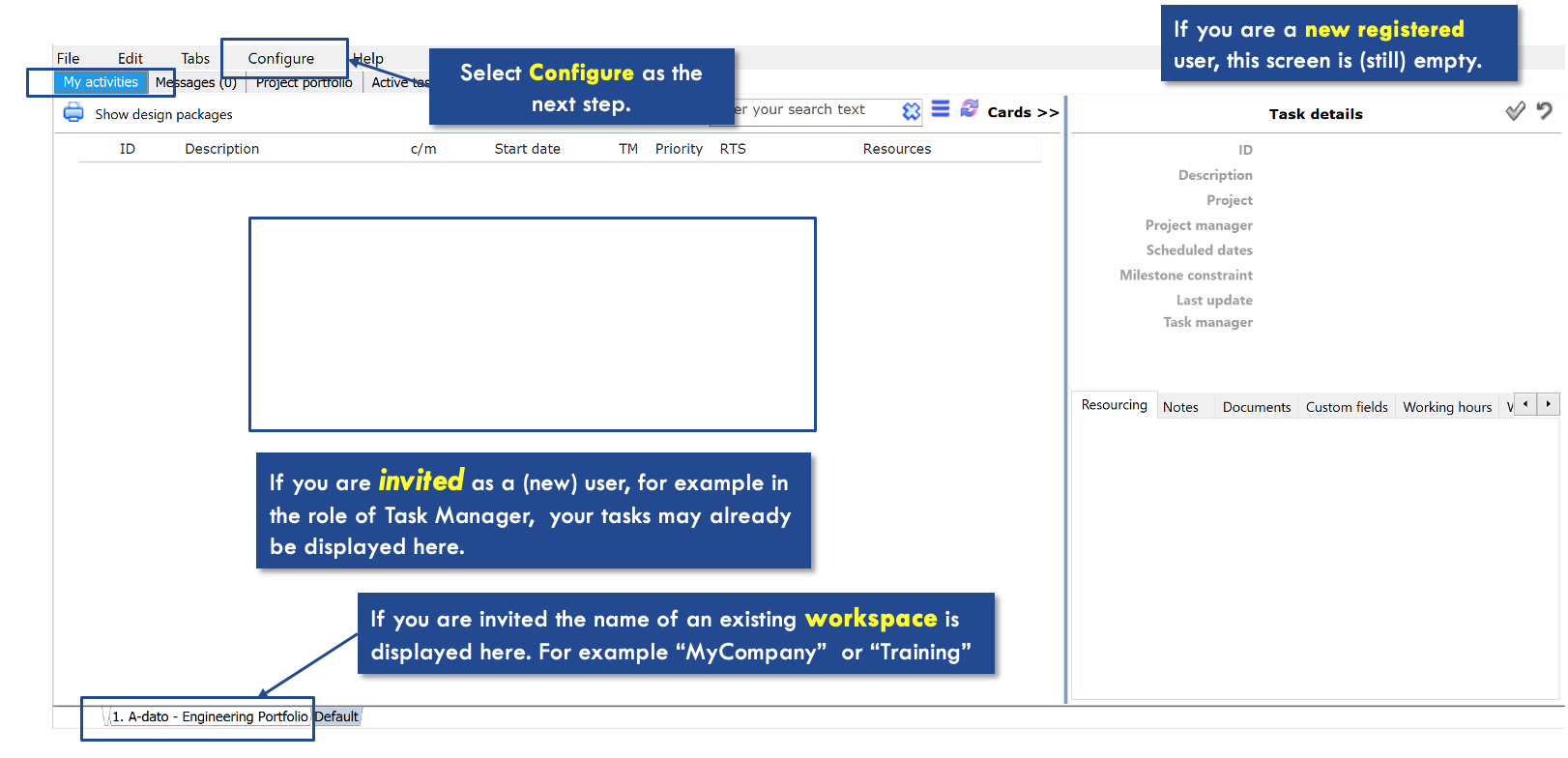 Explanation:
Your first screen after starting LYNX is always the "My activities" screen.
At the bottom of the screen the active Workspace is displayed.
If you are invited as a user the name of an existing workspace is displayed. In this example, A-dato Engineering Portfolio.
Go to File → My Profile to change your profile and also your password as displayed in the picture below: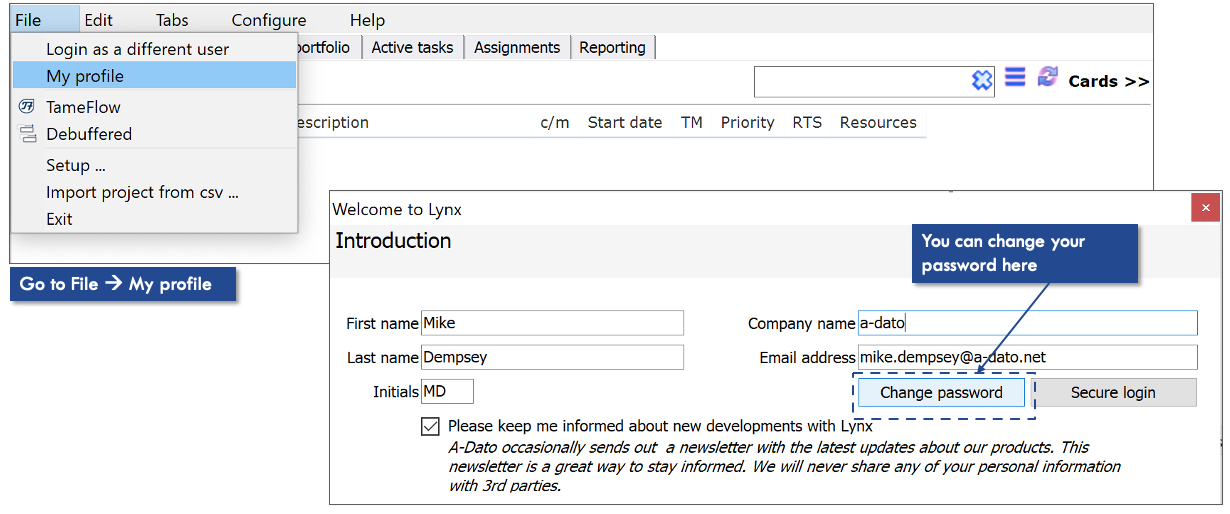 Login as LYNX TameFlow user
For those who would also like to access LYNX TameFlow, TameFlow can always be started via LYNX. However, team users, who only need to work with LYNX TameFlow can also just start using the separate LYNX TameFlow download link.
Please refer to Get Started with LYNX TameFlow for more detailed information on LYNX TameFlow.
You can use the same login credentials for logging in into LYNX TameFlow:
Request a new password (Forgot)
Should you need a new password, you can easily request this via the login screen and by pressing the "Forgot" button:

Visit the LYNX Help Center
If you need help at any point in time, LYNX can connect you to the A-dato Help Center. Go to Help → Help center → Get started.

Create a New Workspace
If you are new to LYNX you will automatically get your own demo space: "firstname.lastname space". This demo space can help you to explore some of the LYNX features. See this article for further explanation: Your personal demo space in LYNX.
To get started create your own new workspace.
You can create a new workspace following the below two steps: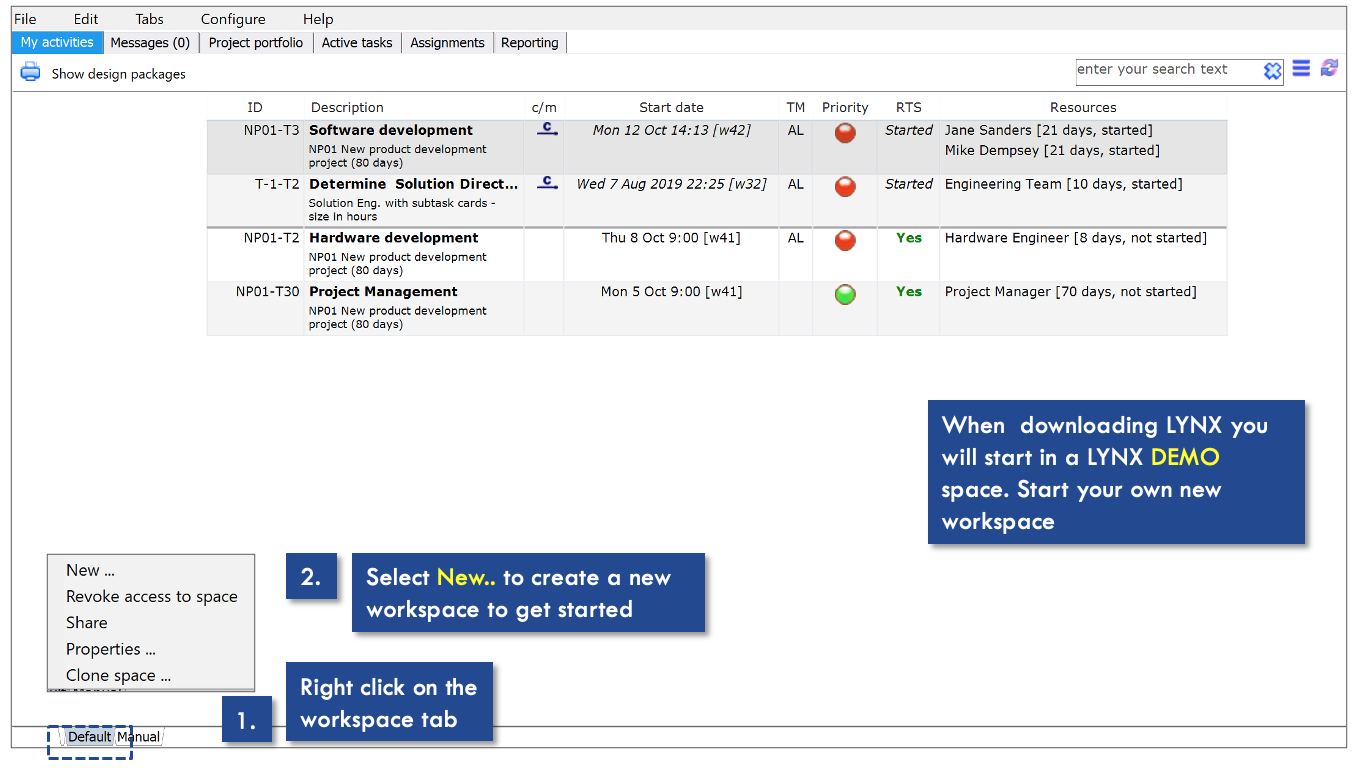 Change the name of a workspace
Add the desired workspace name or change the name of your workspace by editing the workspace properties: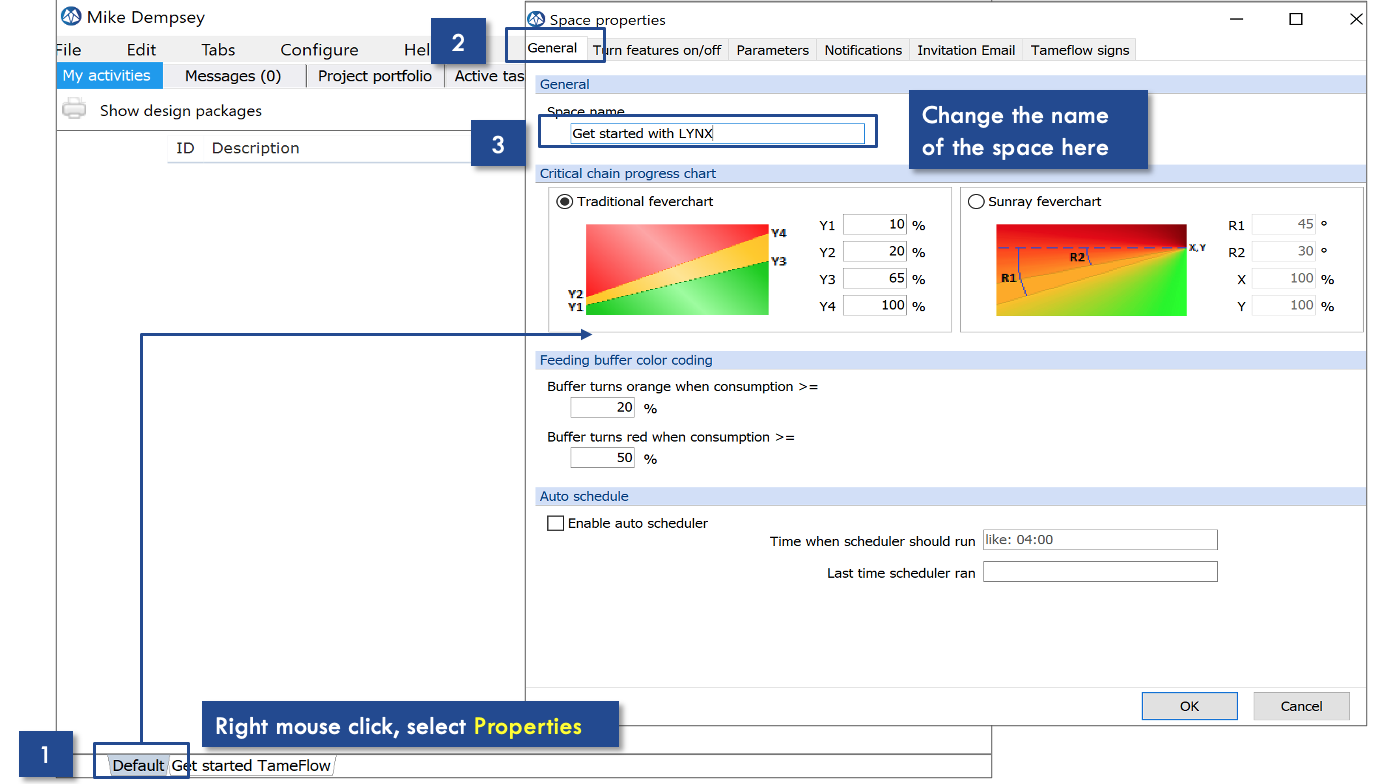 Basic Configuration (Optional)
This (optional) step will show you how to configure your default workspace in a few simple steps. You can also skip to Planning to get started on your first project.
It is also recommended to refer to the following manuals for more in-depth knowledge on Calendar, Skills and Resources:
The following topics will be discussed under Configuration:
Add Calendar
Add Skills
Add Resources
* NOTE: if you are invited to an existing workspace, it is likely that this workspace already has a Calendar, Skills and Resources. You may skip this step and move on to Planning.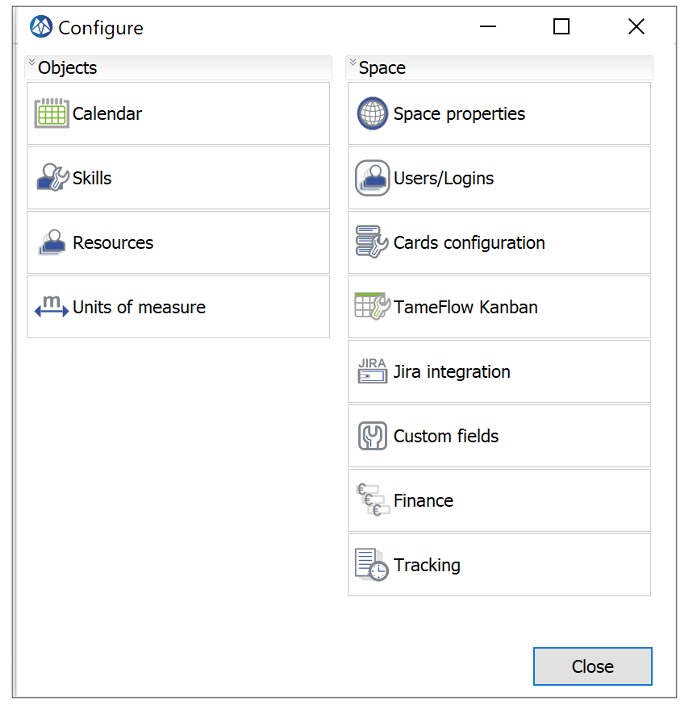 Add your Standard Calendar and Define Working Hours
The first option in the Configure screen is Calendar. Once selected the Calendar tool will pop-up. Calendars are linked to projects, skills and resources. A calendar drives the capacity or availability in terms of resource hours.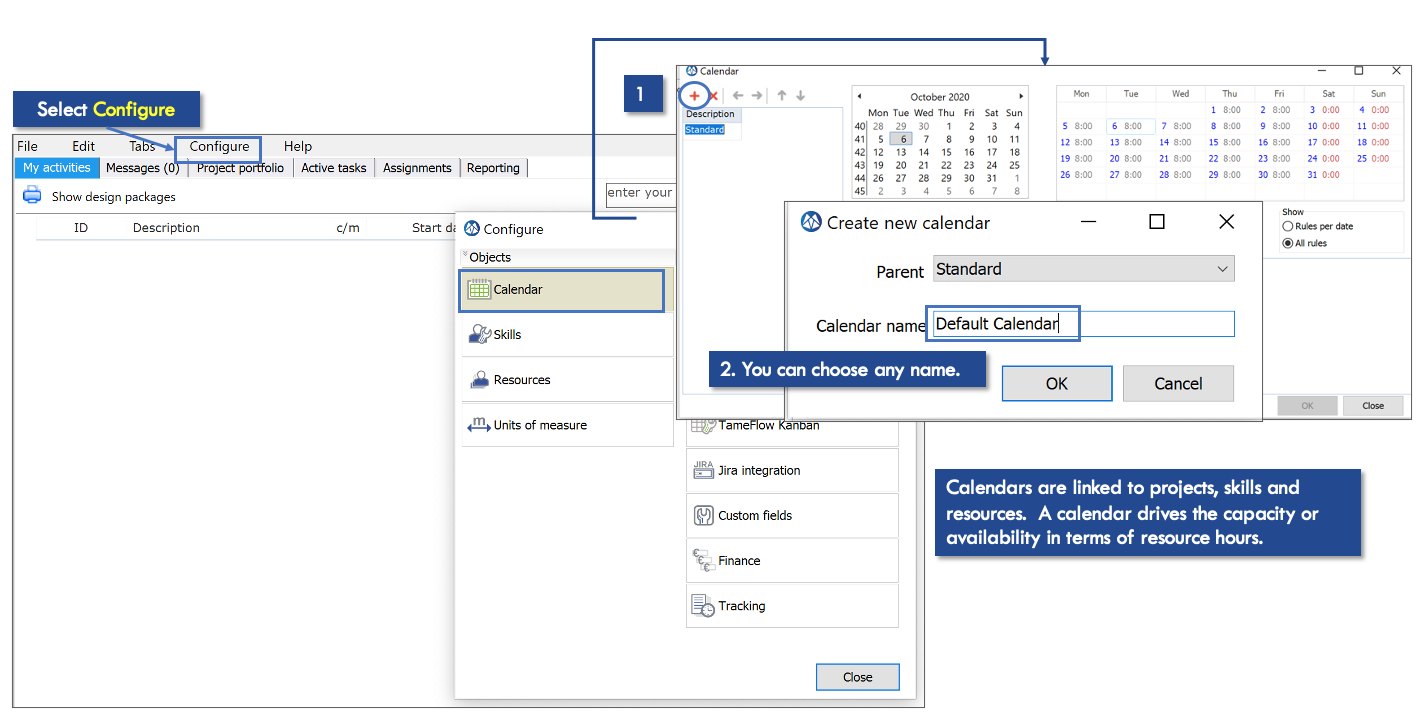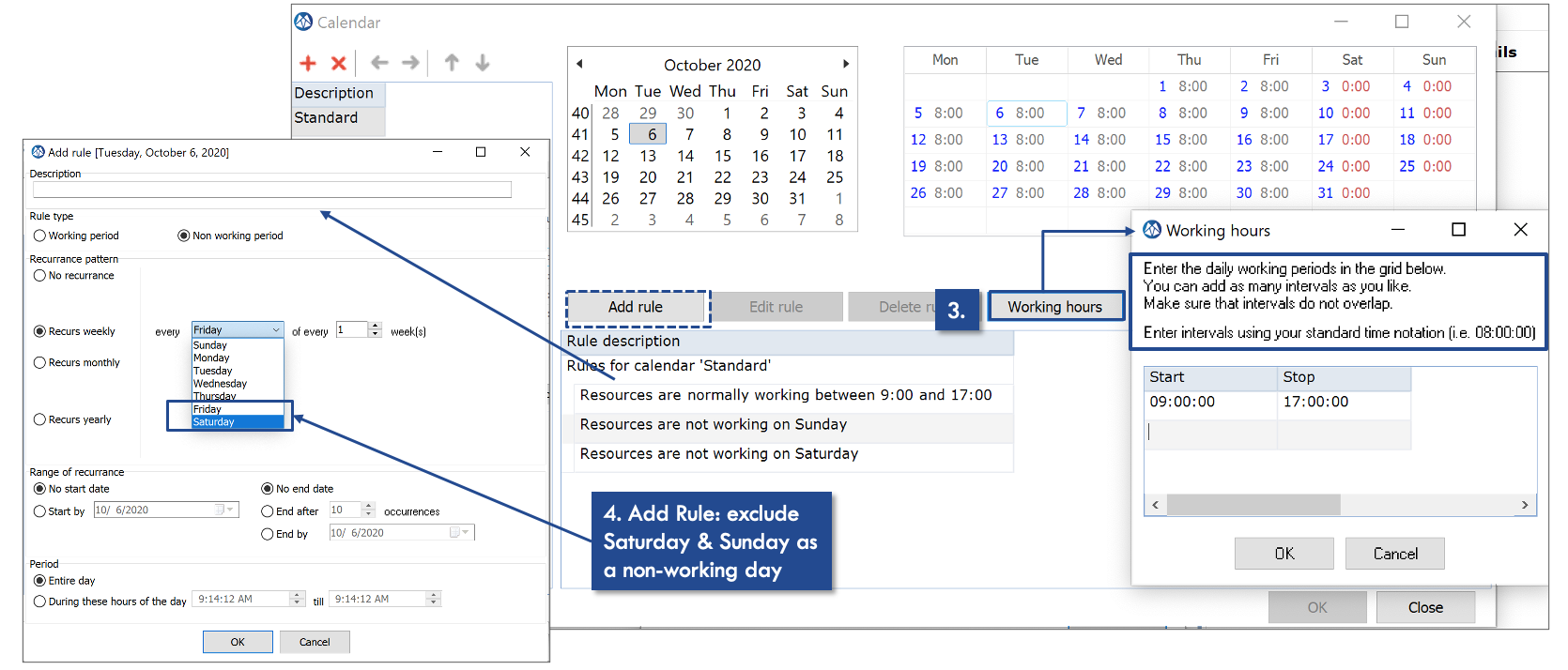 Explanation:
Step 1) Click on the plus icon in the top left corner to create a new calendar.
Step 2) You can name the calendar accordingly
Step 3) Add your working hours. Select working hours and enter the daily working periods in the grid below. You can add as many intervals as you like, just make sure that intervals do not overlap.
Enter intervals using your standard time notation (e.g. 08:00:00)
Step 4) Add rules: you can add your non-working days to the calendar. Select add rule. You can select the recurrence pattern, for example recurs weekly. The example below illustrates how to exclude Saturday as a non-working day.
Standard Calendar Result
Once the above examples have been selected your Calendar should look like the below one. The red highlighted times on the calendar indicate non-working hours. In the Add Rule section you can add your desired holidays. Finally, you can add more (sub) calendars as necessary.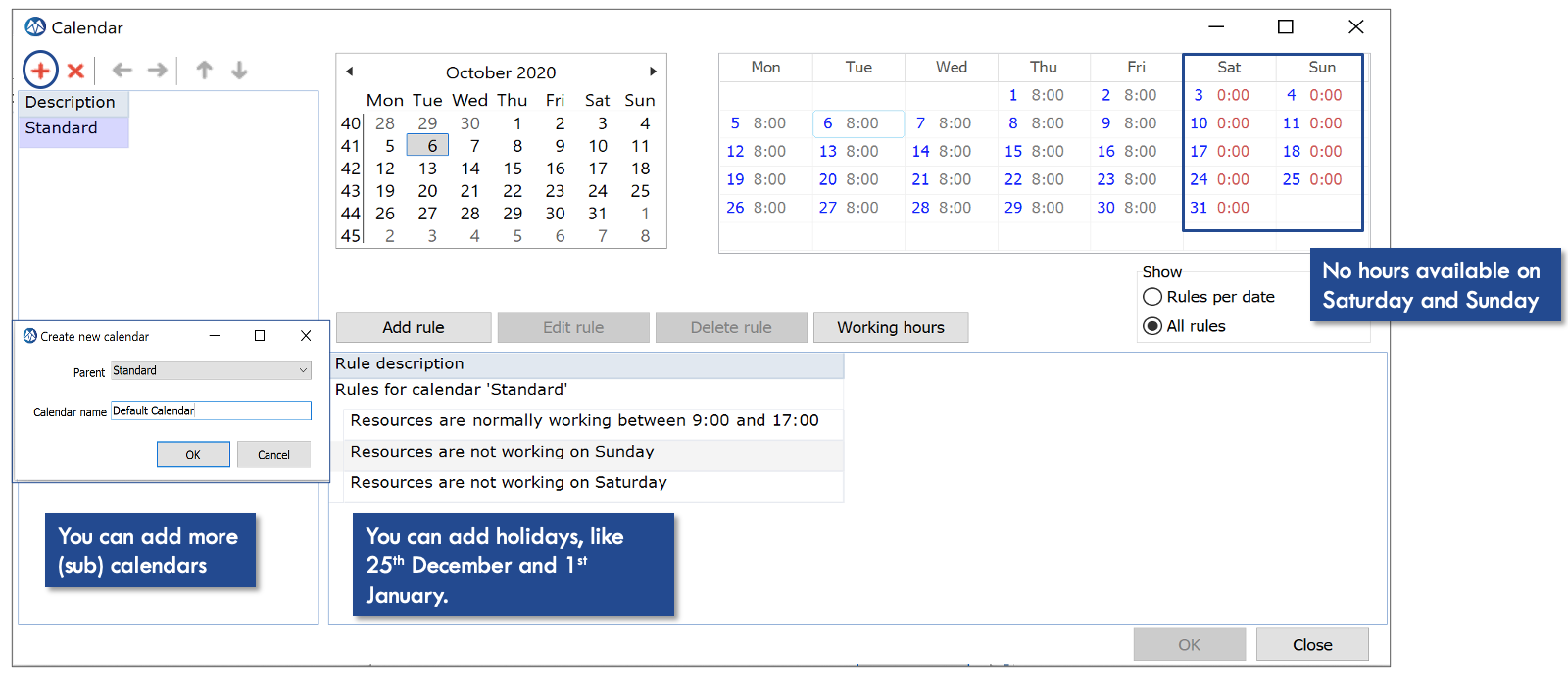 Define Resources
Resources can be referred to as individual team members available within your organization for different projects. To add a new resource, select the resource option in Configure. The resource editor window will open.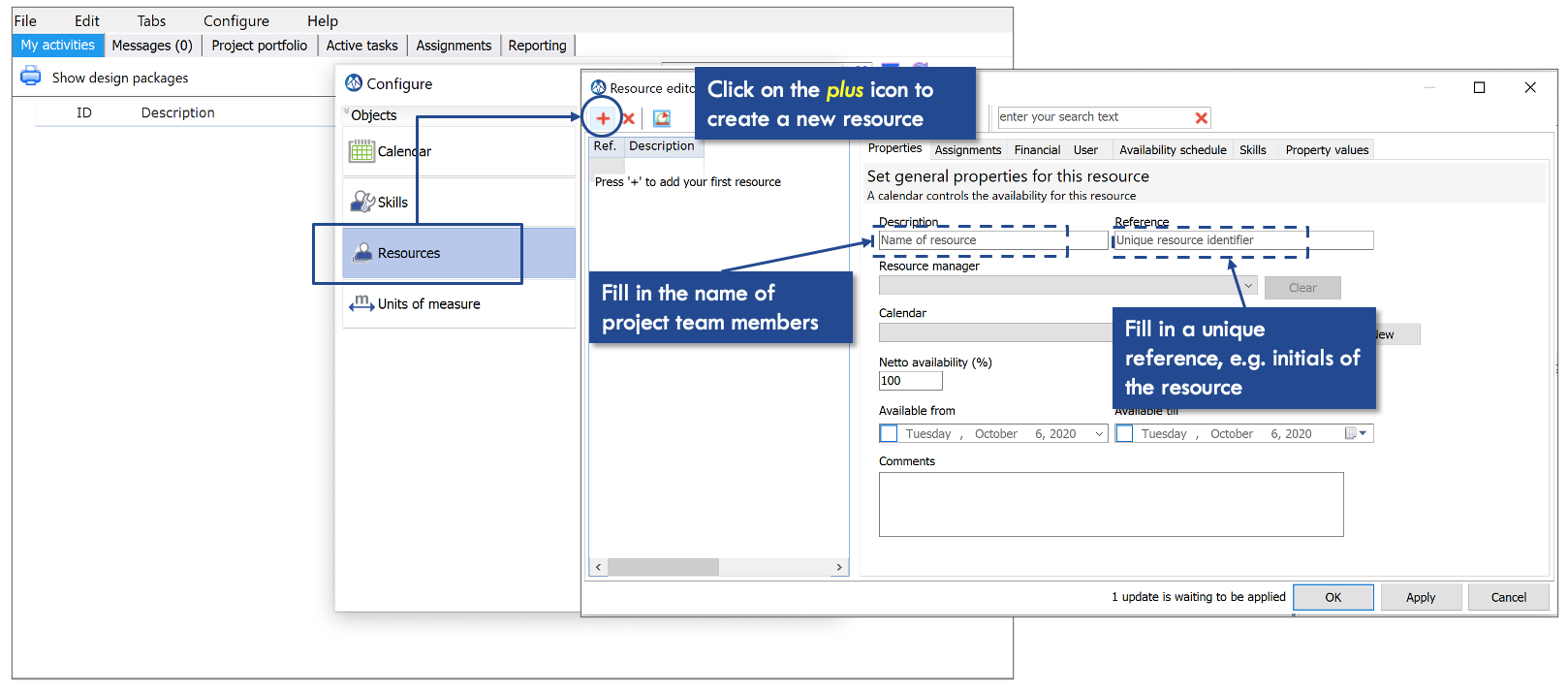 Select the plus icon to create a new resource. This will allow you to set general properties for a new resource. In the description box, add the name of the available resource.
In the reference box add the unique resource identifier. You can fill in the initials, for example Mike Dempsey has the unique reference MD.
Define Skills
Create a new skill
The next option in the configure settings is creating a new skill. Select the Skill option in the configure window. Click on the plus icon to add a new skill. This gives you the option to define a skill/role in the description box. You can add any skills necessary for your project. (e.g. project manager, designer, engineer etc.)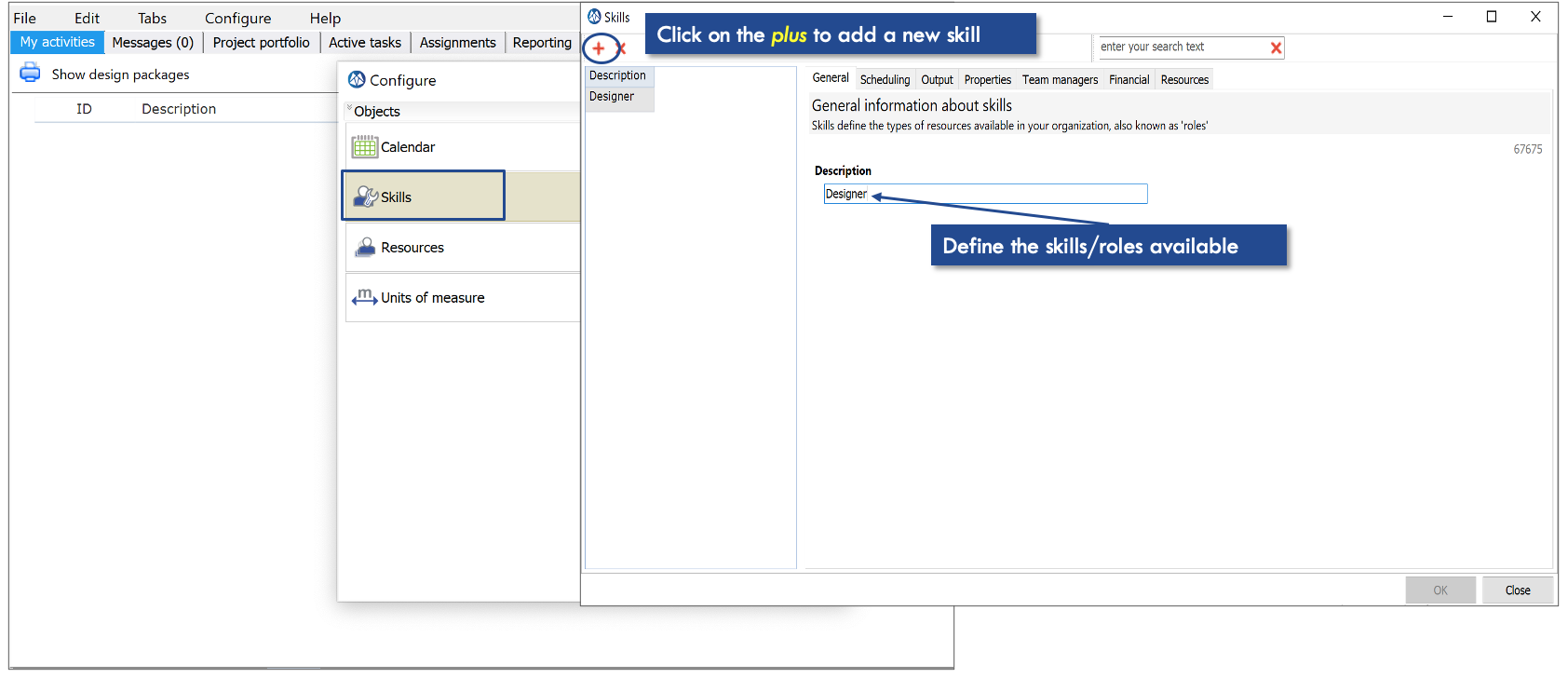 Add a skill for a resource
Next, you want to link certain skills to certain resources. In this example, Mike Dempsey is a designer. Open Resources within the Configure window. Select the resource you want to add a skill for → select the skills tab → select the available skill you want to link → click on the arrows to move the skill from available skill to assigned skill → confirm by clicking OK.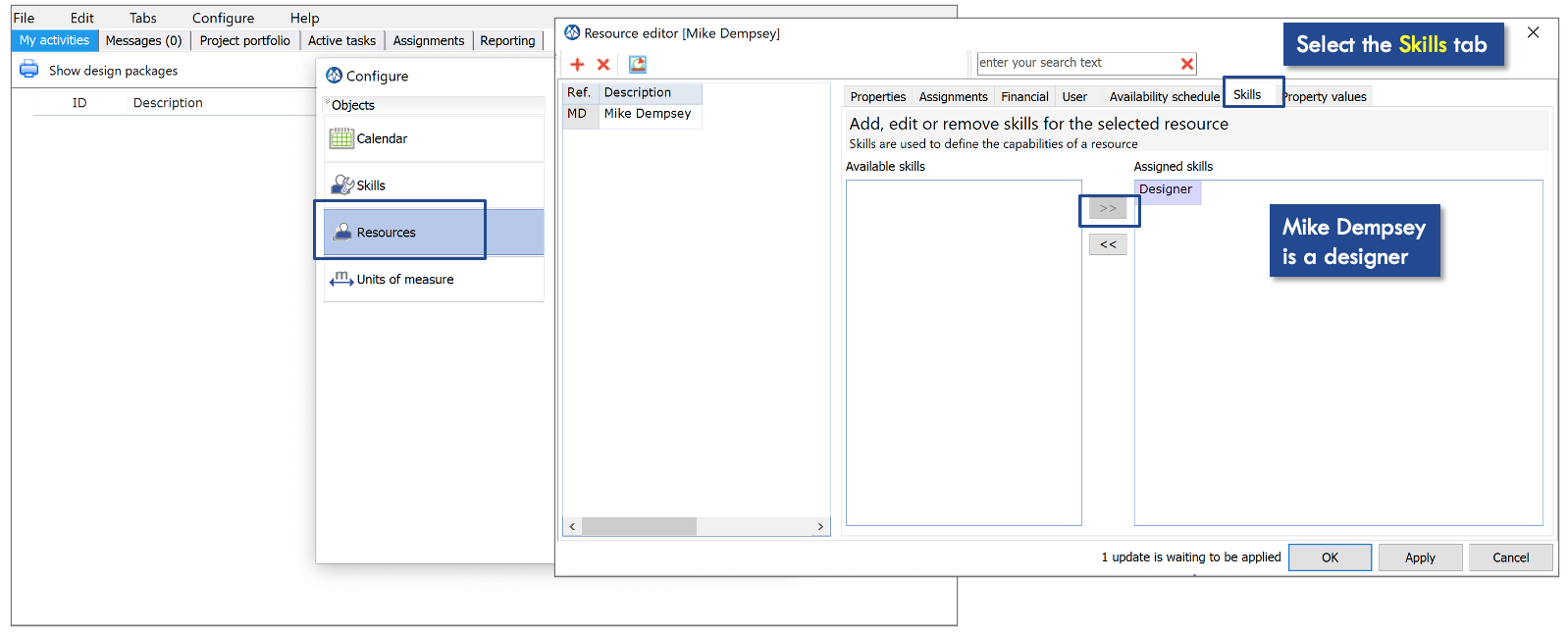 Define Skills and Skill Type (Virtual or Normal)
Explanation:
LYNX offers the possibility to add a skill type as either Virtual or Normal. When assigning skill type as Normal resources are assigned from the list of resources that support this skill. In this case LYNX plans against the total skill availability based on resource individual availabilities.
When assigning skill type as Virtual no resources are assigned. Rather, availability is set under "Skill availability". This means that LYNX plans against a total availability for the skill (in FTE) based on FTE or "Controlled by the number of resources".
For in-depth information on Resource and Skill assignment link to the manual or contact A-dato for personalised recommendations.
Process:
In order to assign a skill type to a skill select the Skills option within the Configure window. Select a skill you would like to define skill type for → select the scheduling tab → select Virtual or Normal under skill type.
When selecting virtual you can fill in the skill availability based on no. of FTE.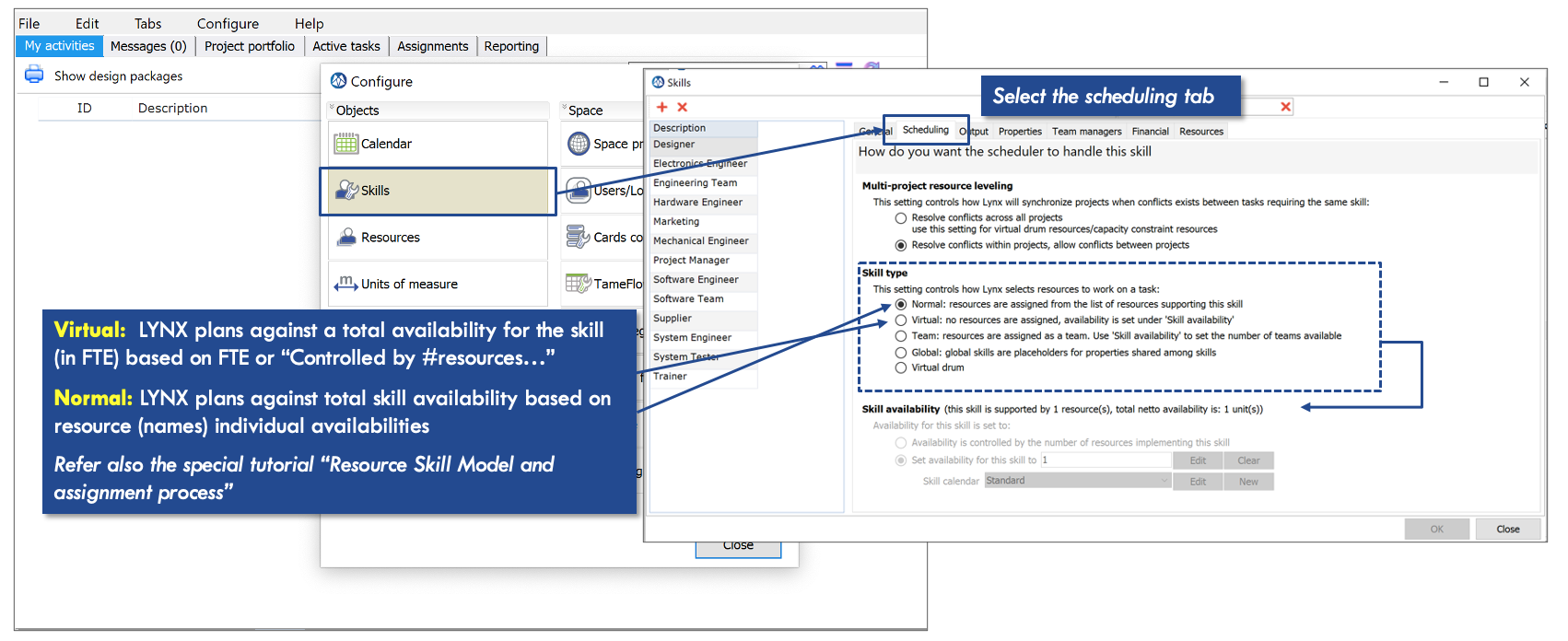 Example skills and resources
Add as many resources and skills as necessary. The example below illustrates some of the options available.


Mike Dempsey has been assigned the role of Designer in skills
Supplier is considered a virtual skill in this example, with one FTE available
Both Steve Horner and Tom Smith are System Testers, meaning there are two people available for this role.
Planning
Add your First Project
To get started on your first project select project portfolio in the desktop window (F5) → select add.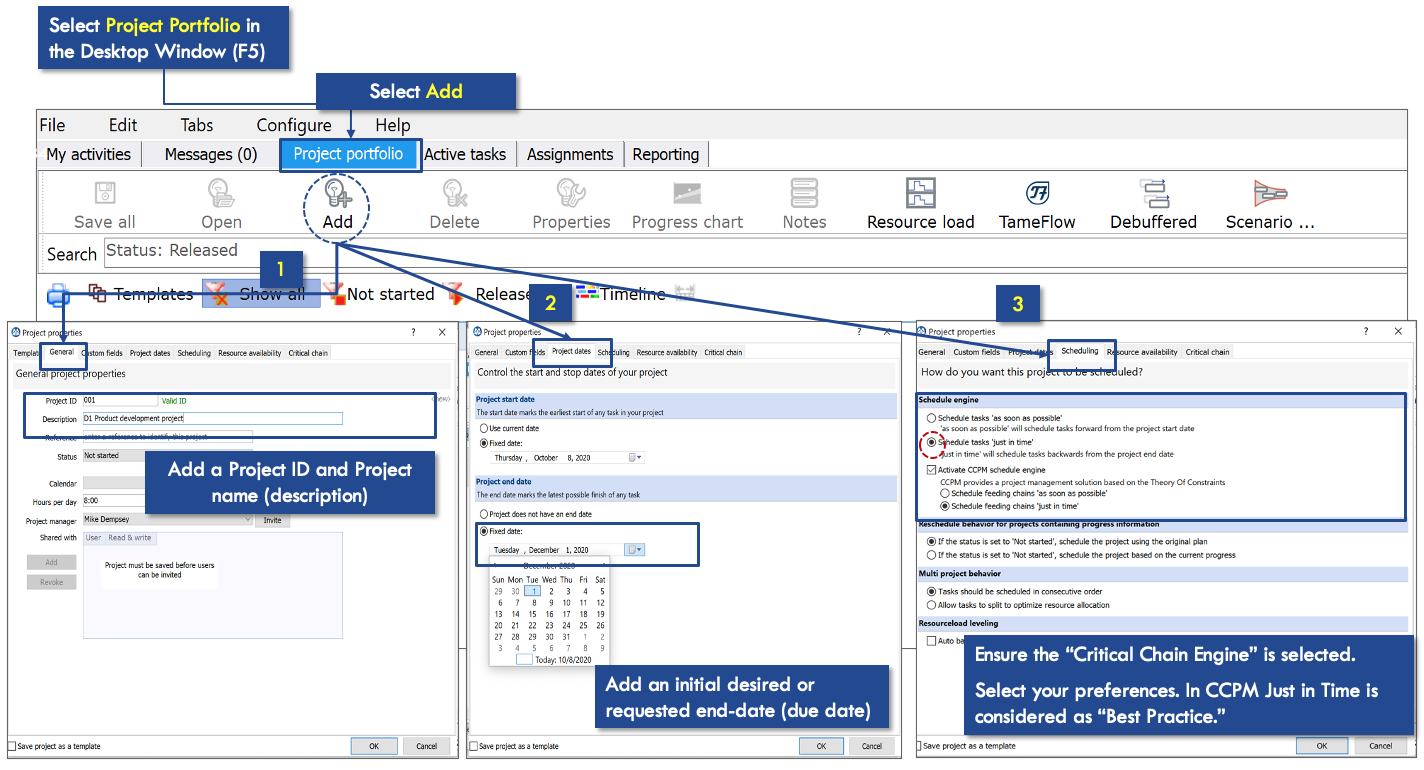 Explanation: Several project properties are set in this step
Each project receives a unique project ID and project name
To start a new project a desired end-date has to be filled in
There are different scheduling options you can select. For a CCPM project 'just in time' is considered the best practice.
Project Portfolio Window
You will now find your first project listed in the project portfolio tab. It is listed with status "not started". Here you can filter projects on show all/ not started/ released. You can find this project under show all or not started initially.
Useful features you can use in the project portfolio window are illustrated below: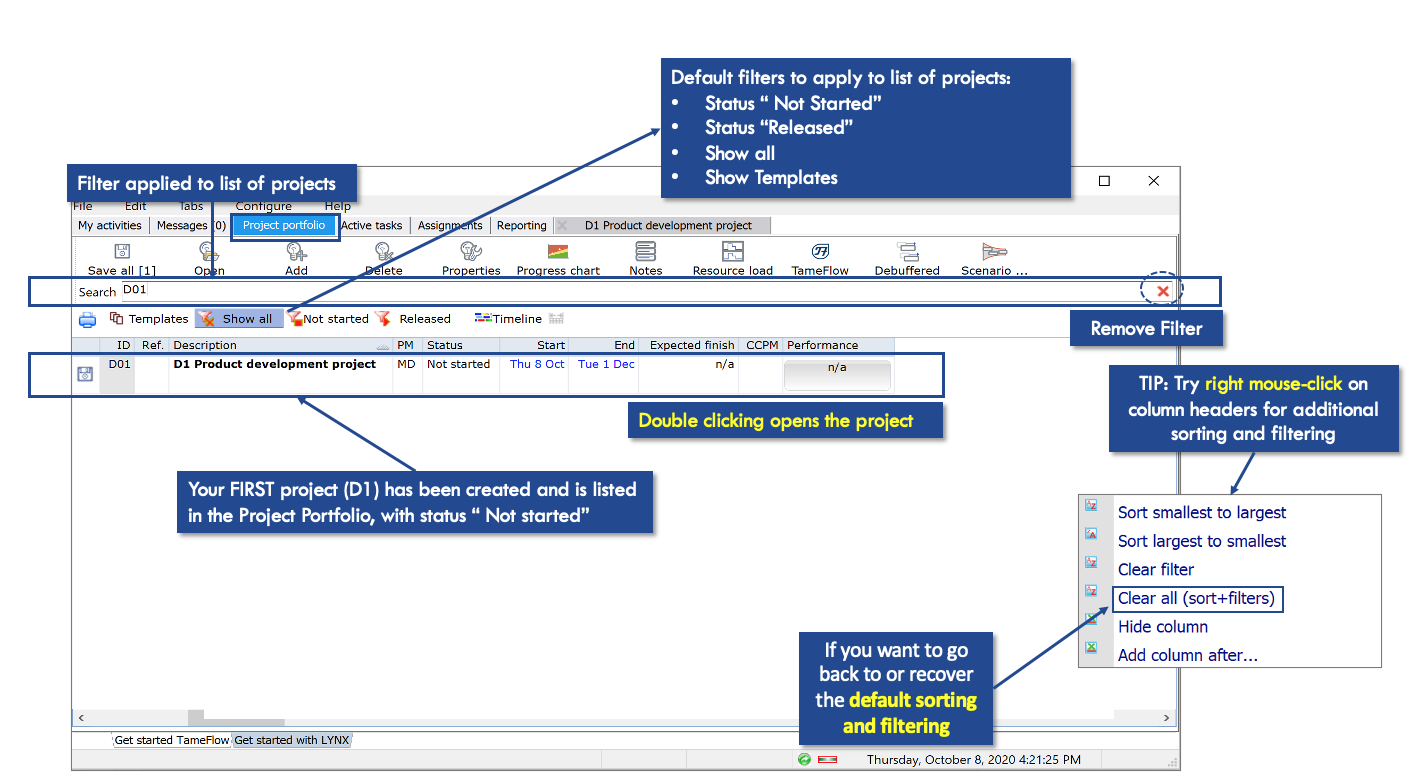 Project Window
After double clicking on the listed project in the portfolio window you will now be in the project window. A new tab will open at the top bar with the name of your project.
Select features include: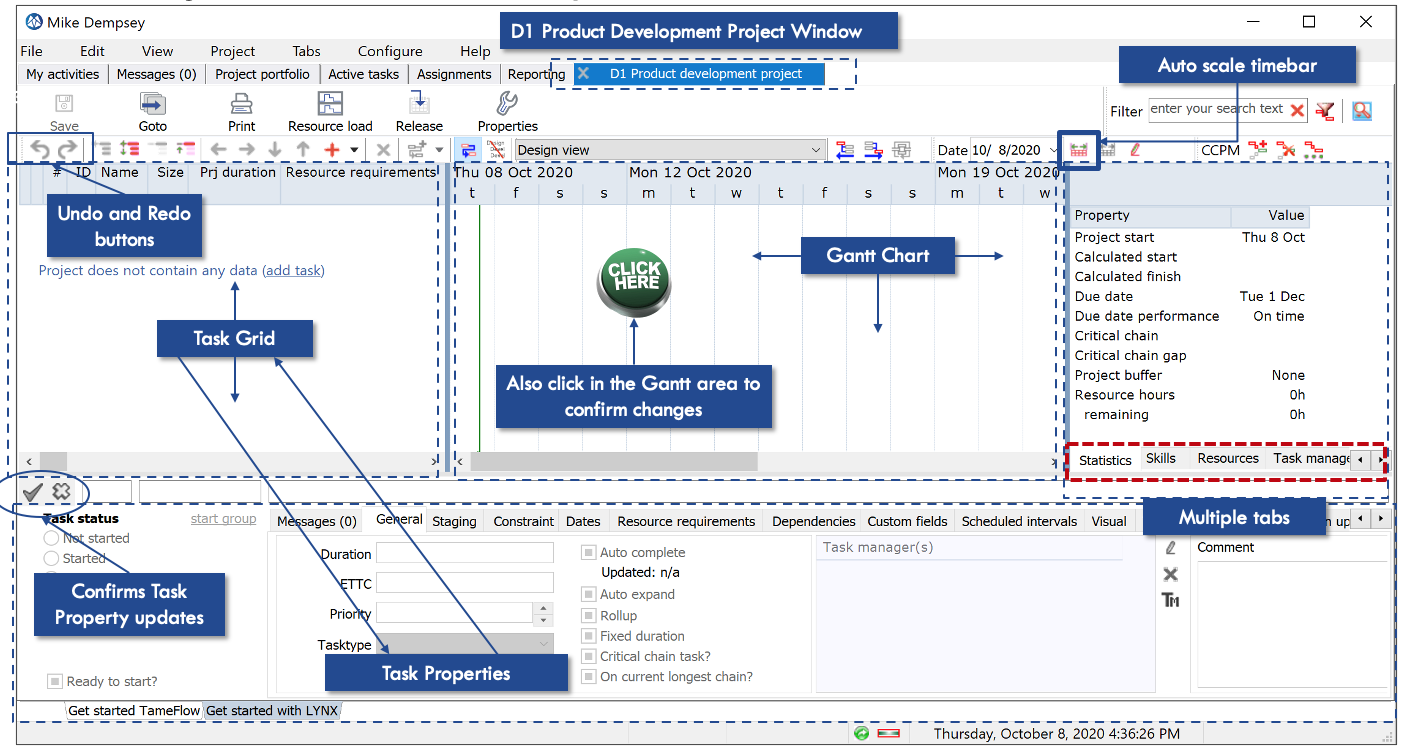 Create the Project Plan
In this step the following steps are covered in order to create a complete project plan:
Add Tasks (and initial Prj. duration)
Add Task Dependencies
Add Skills and Resources
Add Task Managers
Convert the plan into a Critical Chain Plan
Target Plan
The below image shows the target plan that should be achieved after following the next steps in Add Tasks and Add Dependencies.

Add Tasks
You can add tasks via the add task button in the task grid.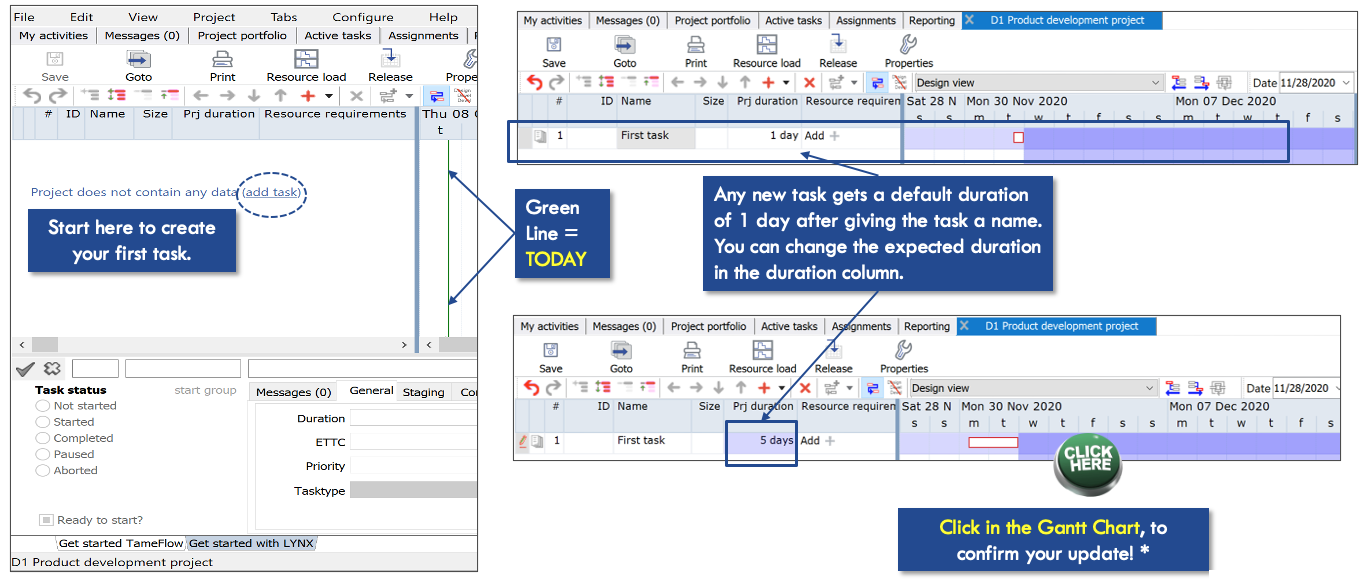 Explanation:
Upon giving the task a name the default task duration is set to 1 day. You can change the duration the the duration column.
To confirm updates in the task duration you can click enter of click in the Gantt Chart to confirm the update.
* Background of this process is the optimization of the performance and prevents that any (small) change triggers a re-calculation of the complete (large) project plan.
Add and edit more tasks
You can also add tasks via the plus button.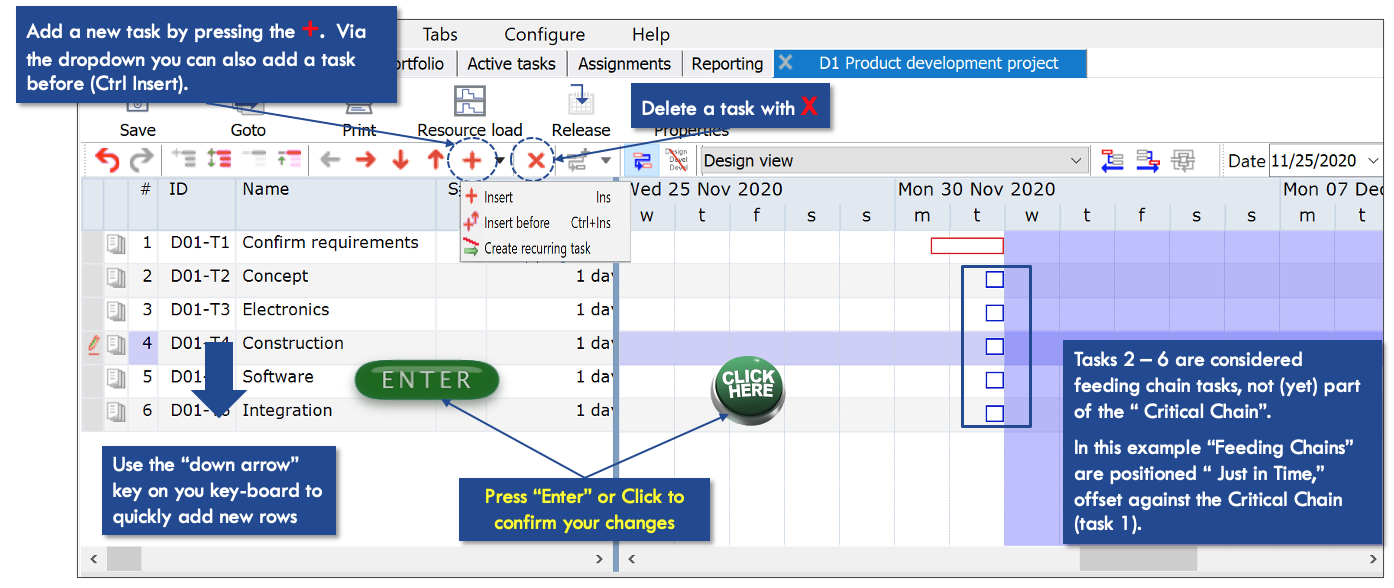 Note: This image illustrates the 'just in time' scheduling features, whereby tasks are not (yet) part of the "Critical Chain". The Critical Chain implementation will be illustrated in later steps.
Save your progress
Once adding all the tasks be sure to click Save. By clicking Save each task gets its own ID. By clicking on the Auto Scale time bar all the tasks will be automatically scaled to fit your window.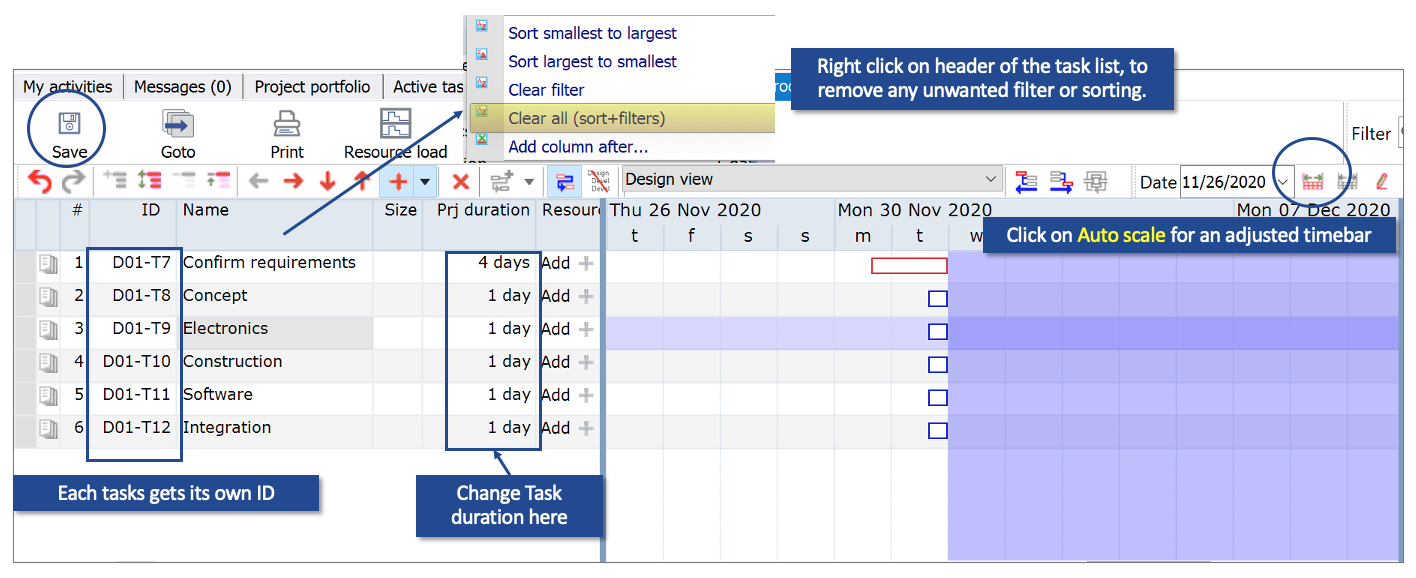 Note: update also the initial Prj.duration, you can also decide to this later
Add Task Dependencies
Task dependencies determine the relationships between tasks and identify which tasks need to be completed in order for other tasks to be performed. There are different ways to add dependencies between tasks in LYNX.
Add dependencies via the task grid

Add dependencies via the Gantt Chart

Note: The dependency is added in the direction of first select tasks to second
Add dependencies via the Edit Boxes
This method is especially useful for projects with many tasks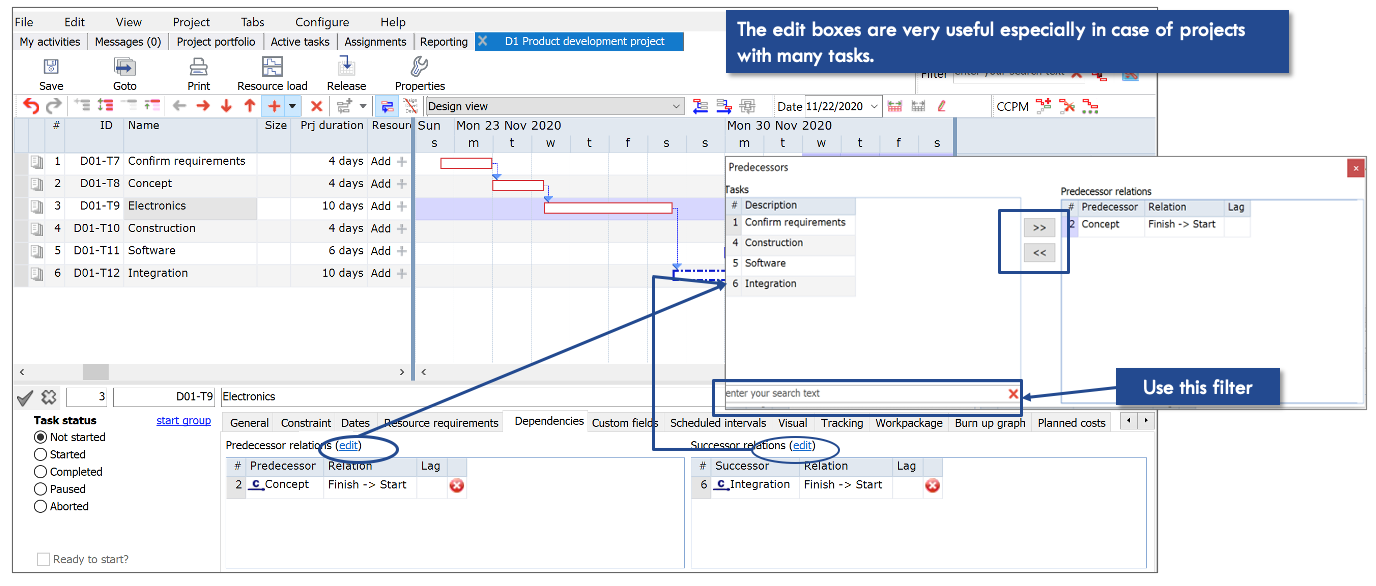 Delete Task Dependencies
In order to delete dependencies, select the task → go to task properties at the bottom of the screen → select the dependencies tab → delete the desired dependency in either the predecessor or successor box.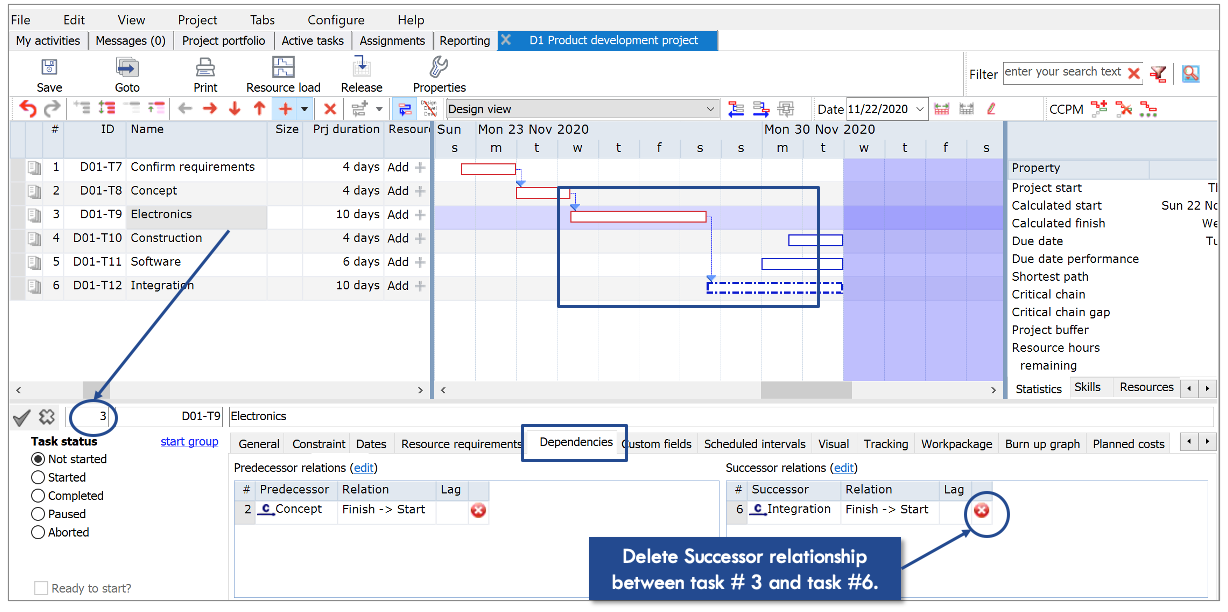 Add/Update Task Dependencies
Select view → select data entry view (Alt+F6) → you now have a visual of the number of predecessors and successors per task.

Review Results and Statistics
This should look similar to the Target Plan presented earlier.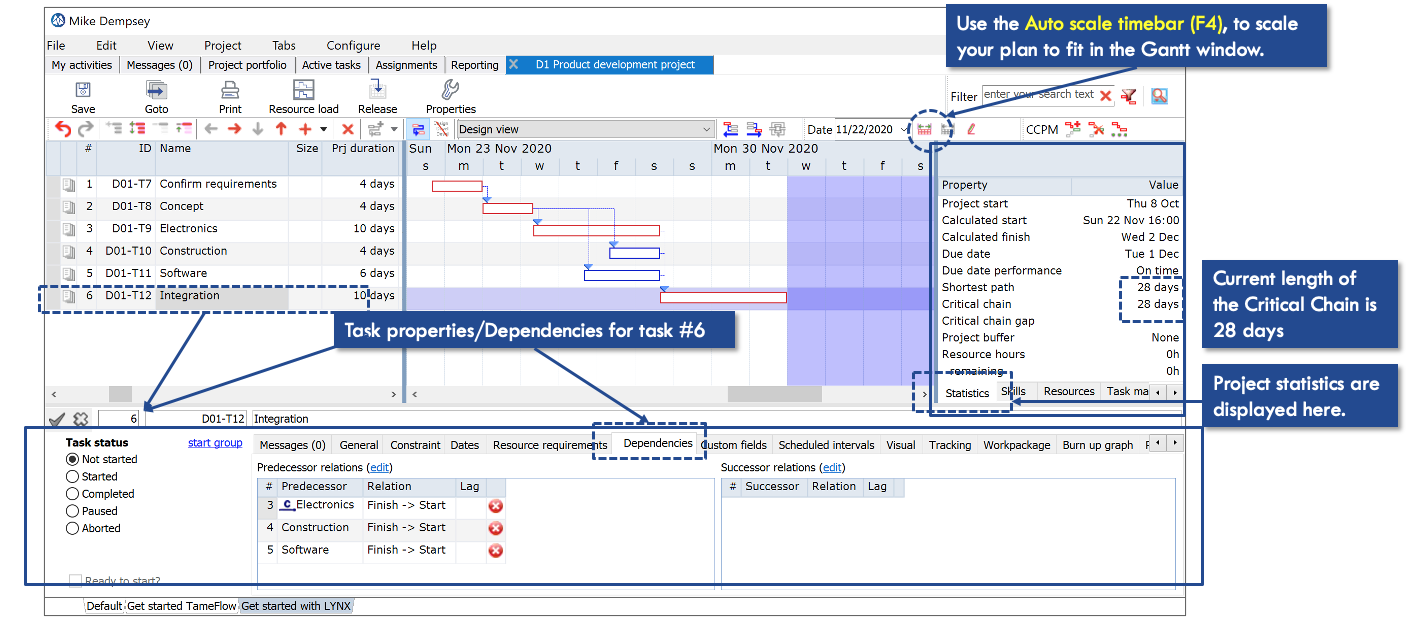 Explanation:
Task properties are displayed at the bottom when selecting individual tasks. Select the different tabs to edit task properties such as dependencies, resources etc. In the example the task properties of task #6 are detailed.
On the right side of the screen you can view and review the project statistics.
Select Critical Chain View
Changing the view will only display tasks that are part of the critical chain.

Add Skills and Resources
The next step is adding the required skills and resources in order for the tasks to be performed. Once again there are several ways in which you can add them.
Add skills via drag & drop
Select the skills/resources window on the right side of your screen and drag and drop the desired skills to the selected tasks.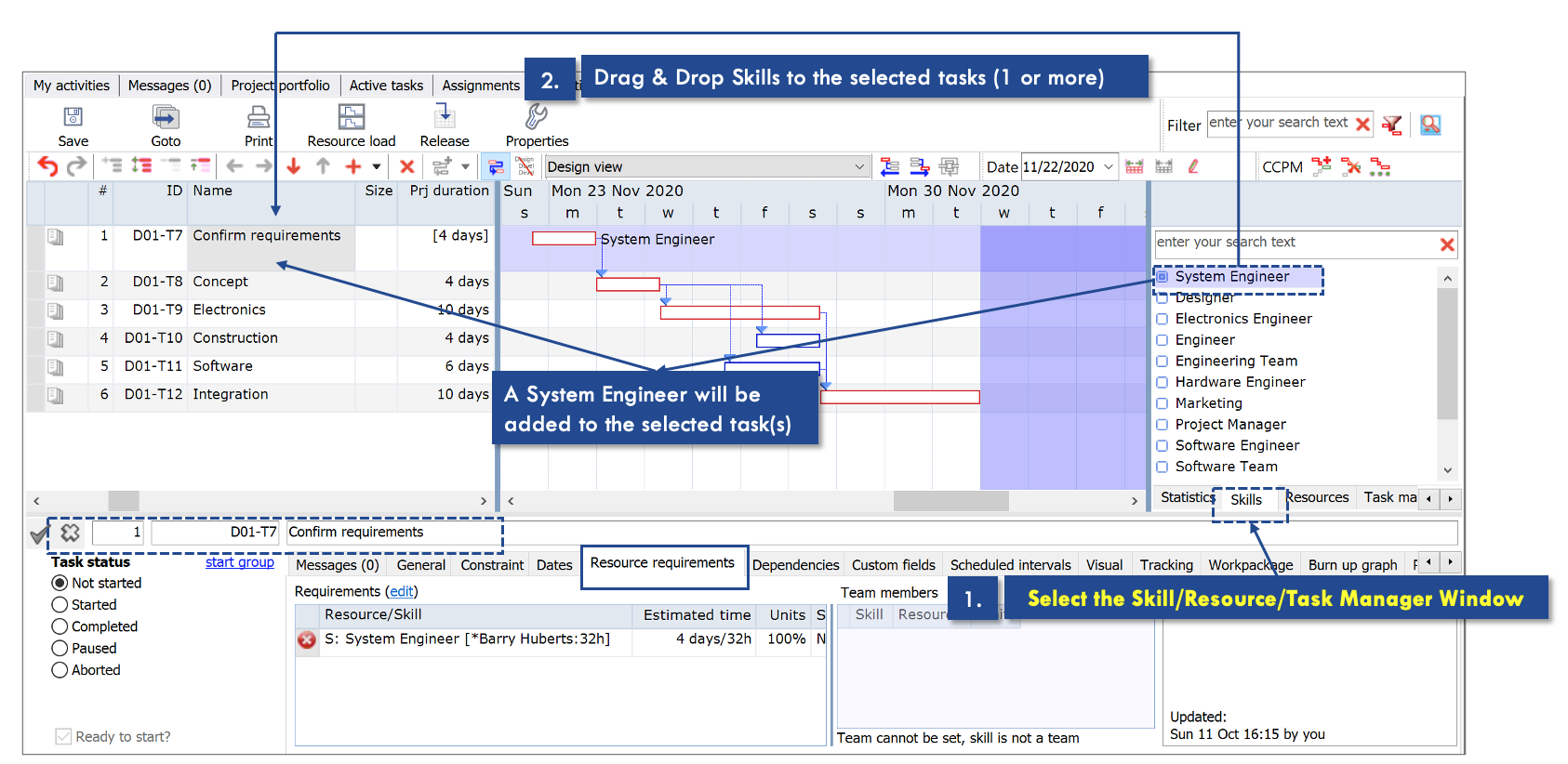 Add skills via the resource requirements column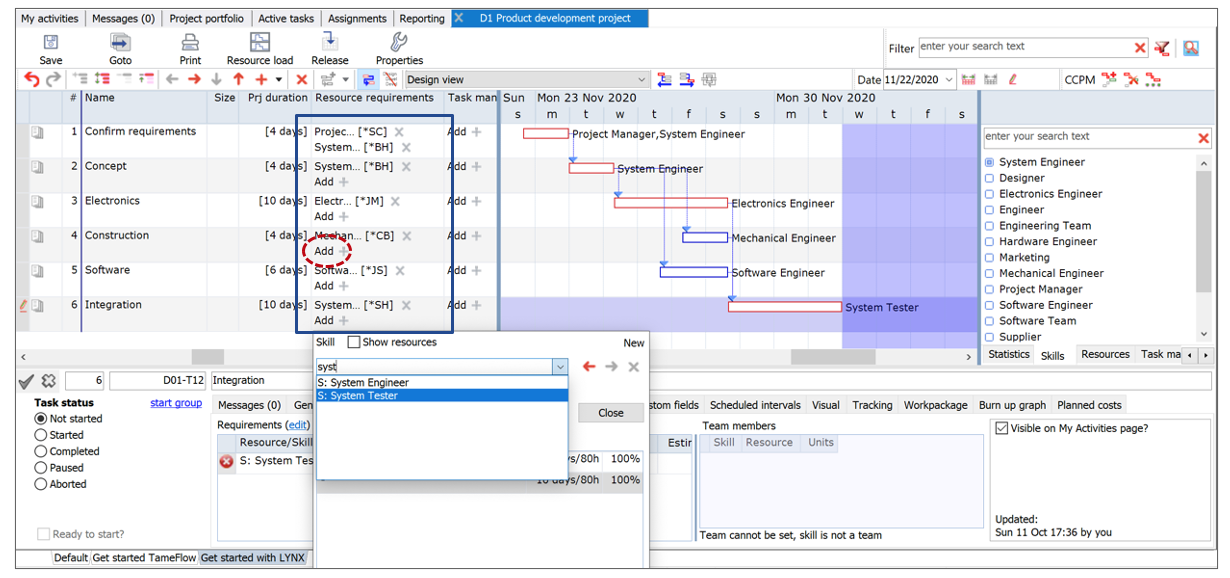 Review the Resource Load
Once you have assigned diverse skills and resources you can review the total resource load of the project. This allows you to compare the resource availability versus resource scheduling. In the below example the red shaded area illustrates that there is not enough resource availability.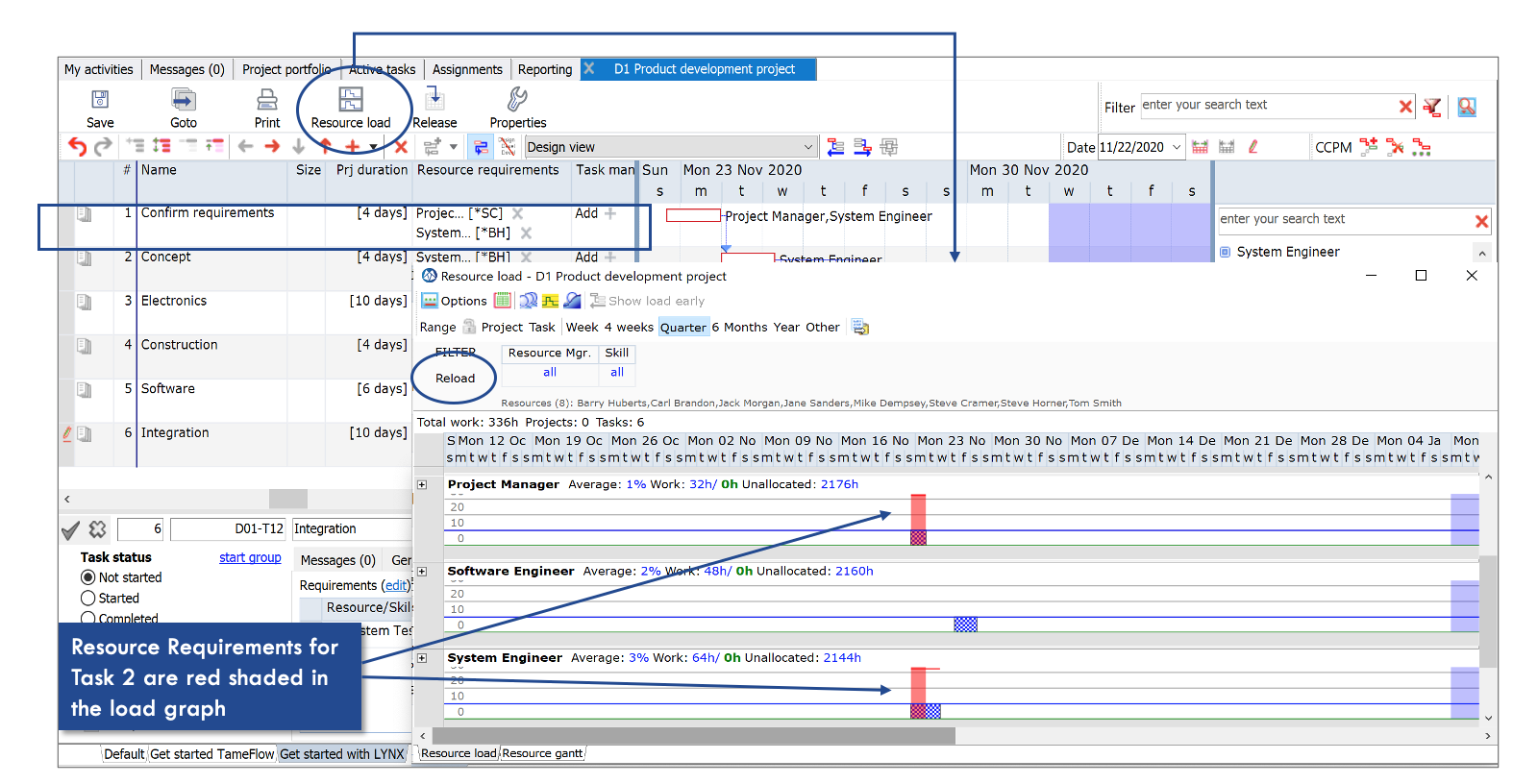 Modify Task Estimated Time and Units
One way to resolve overload in resource availability is to modify the time required for each skill/resource. You can also easily edit resource requirements in this way.
Note: once skills or resources are assigned to a task, you can not update the task duration via the column Prj.duration anymore, and the duration is shown in [6] brackets. The possibility to update durations has "moved" to the resource requirements box, as indicated below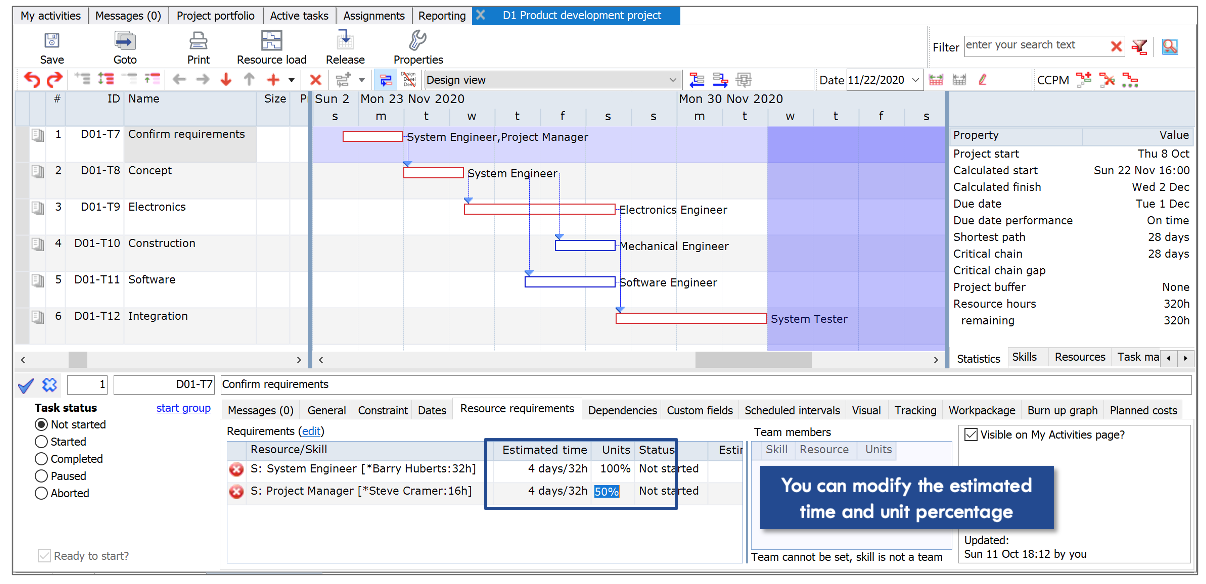 Scenario Virtual Skills: Review Resource Load
In the case of scheduling "Virtual Skills" LYNX does not make a pre-selection and soft-allocates a resource name. Please refer to the manual on resource and skill assignment for an in-depth explanation.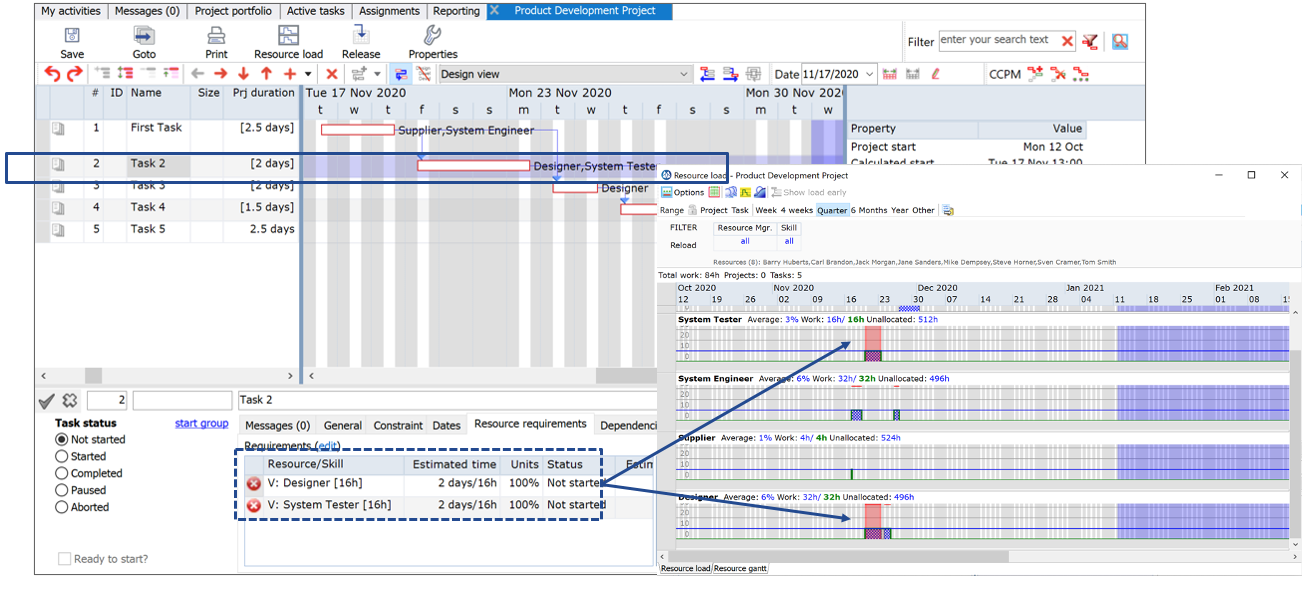 Add Task Managers
The next step is adding who is responsible for which task, also referred to as task managers. In a CCPM implementation typically a Task Manager is responsible for (daily) task updates.
Add Task Managers through invitation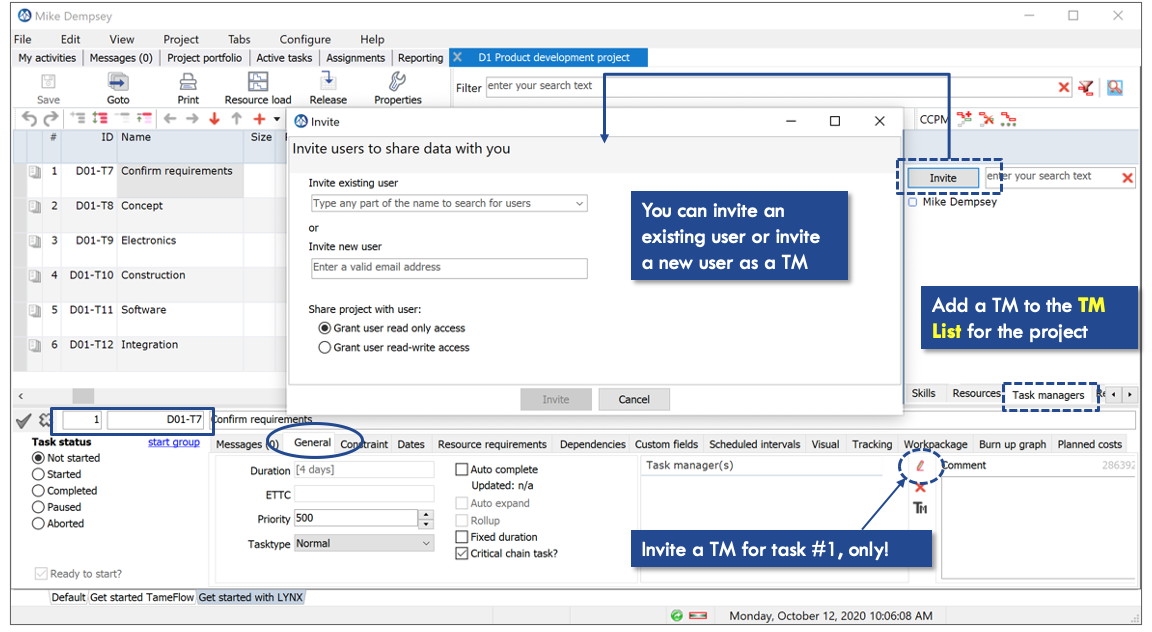 Explanation:
Invite Multiple Task Managers involved to the TM list. Task Managers are typically responsible for providing tasks updates, often on a daily basis.

Inviting a Task Manager via the Task Property tab at the bottom will only invite a TM for that specific task.

Inviting a TM through the Task Manager list will invite them for the project, after which you can assign them individually per task.
Add Tasks Managers via the Task Manager column or via Drag & Drop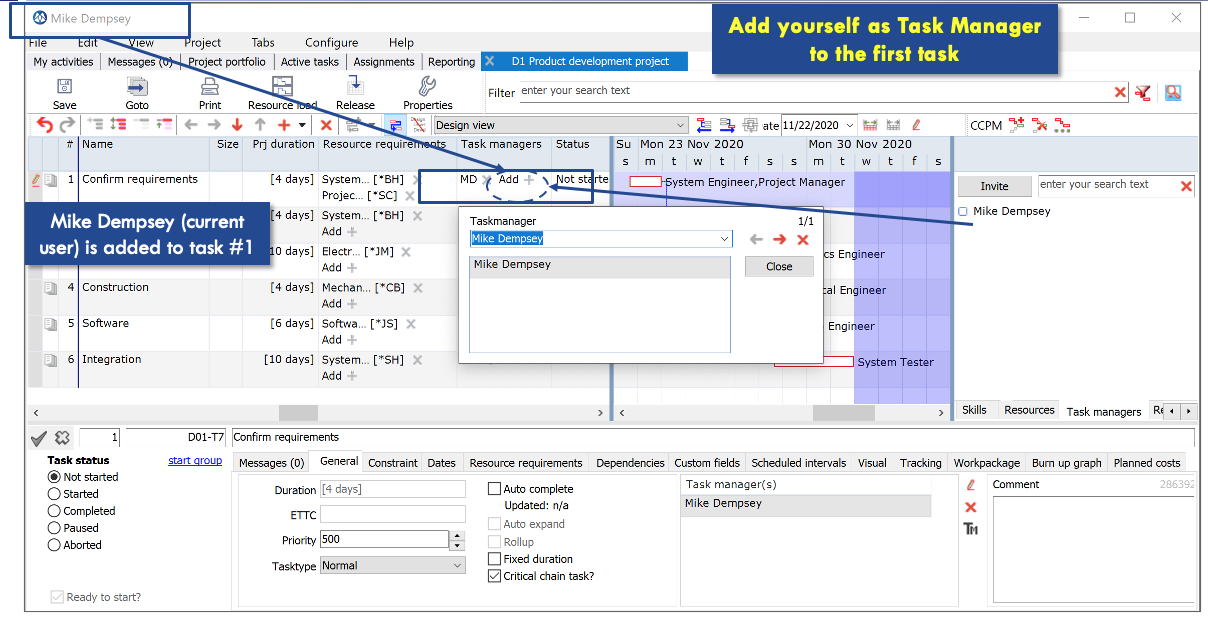 Apply Critical Chain Behavior
There are three steps involved in applying Critical Chain Behavior to the project: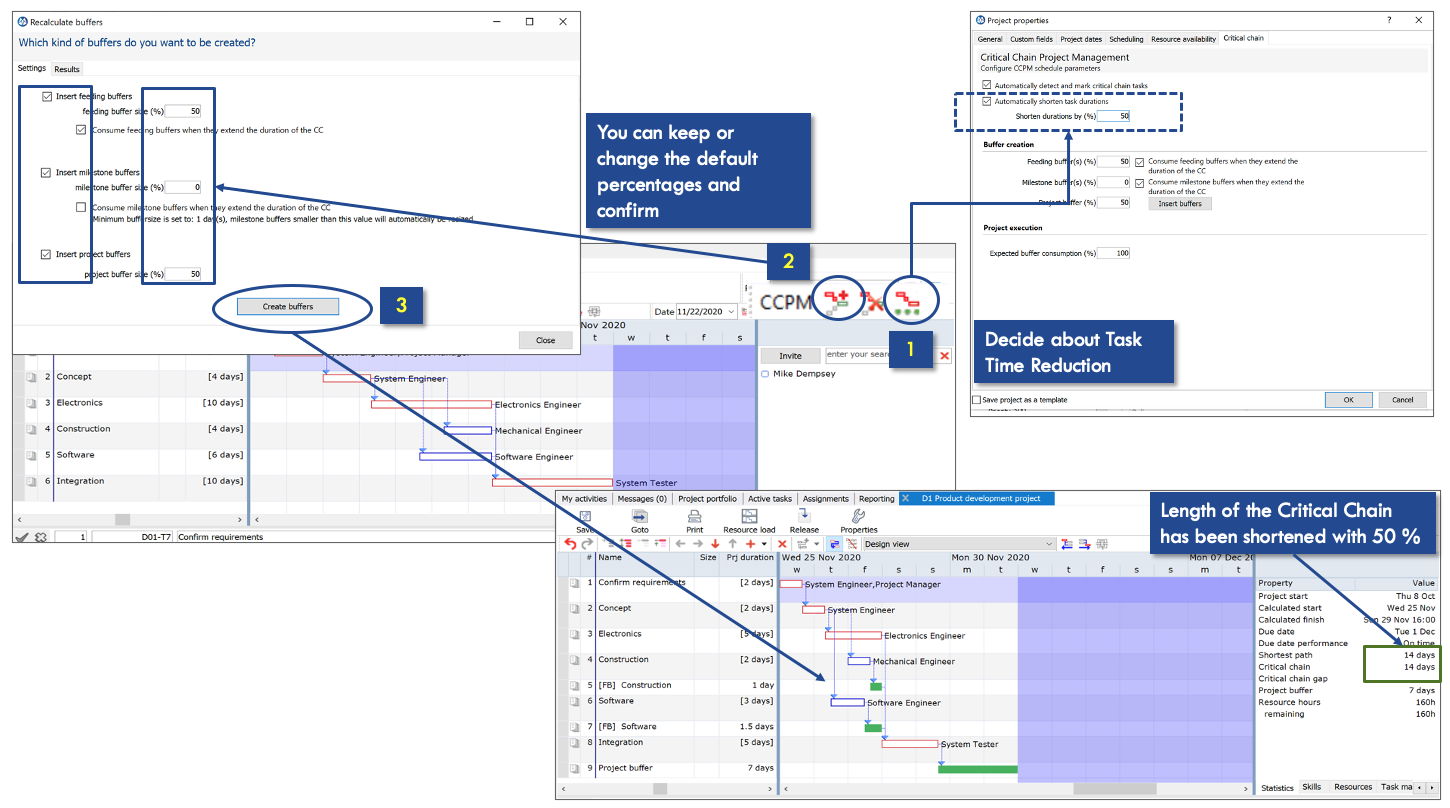 Explanation:
The first step implements the Critical Chain Project parameters. In this example tasks are automatically shortened by 50%.
The second step allows us to determine the type of buffers you wish to insert.
Finally, the buffers are implemented. Buffers have been added to the project and the length of the critical chain has been shortened by 50%.
Video Explainer: How to Create your First Project
See this video demonstrating how to create your first project. (This is a HD Video you can watch fullscreen on Youtube. Select settings in Youtube and set quality to 720P or 1080P)
Start a Project from a Template
You can find new templates under the project portfolio → templates

Next, select Add to create a new project from an existing template.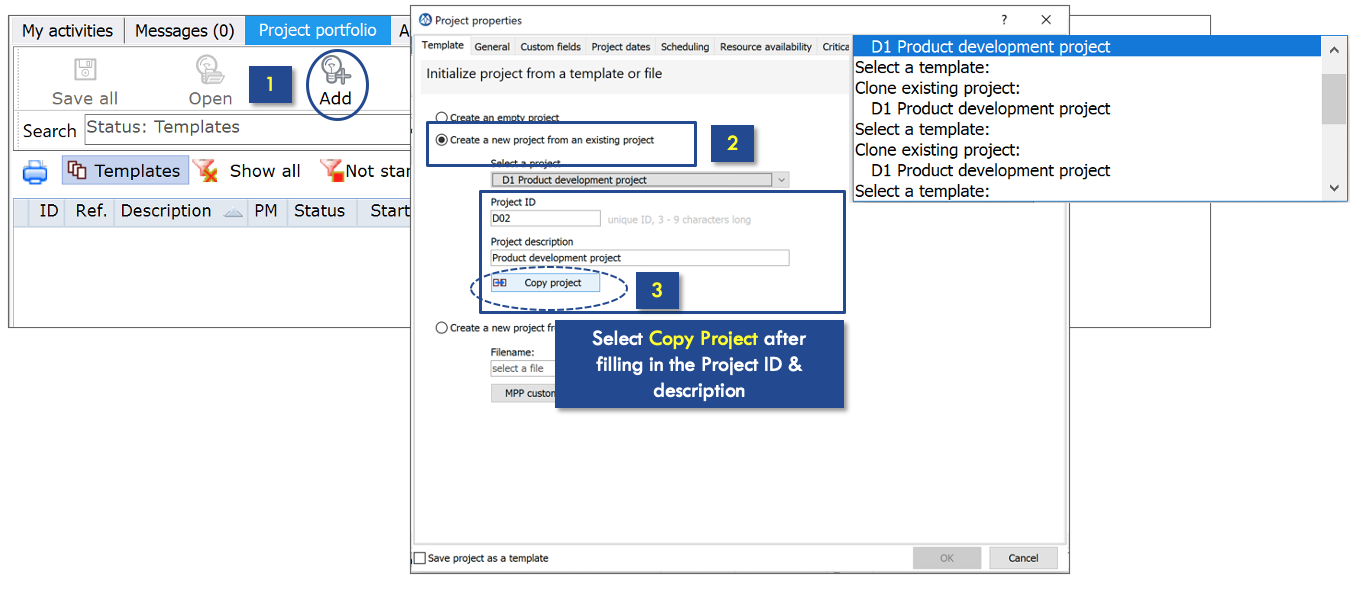 You can now find your new project under not started.

Releasing your Project
Releasing the Project and its Tasks
Once you have completed the project planning it is time to release the project. This can be done by selecting Properties → Select status: Released.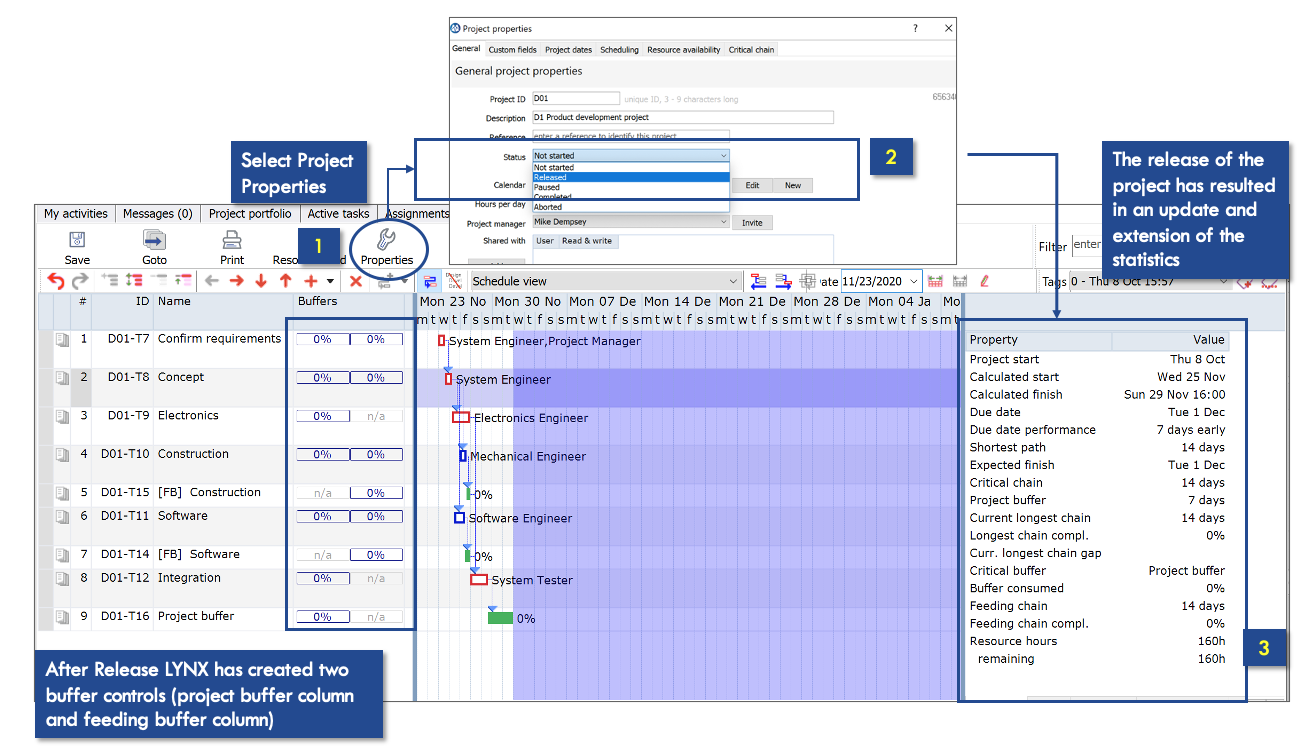 Explanation:
The release of the project has extended the statistics window. You can now find additional statistics key to controlling your project.
After the release, LYNX has now created two buffer controls. The project buffer column and feeding buffer column can now be found next to each task.
My Activities Window
You can now select the My Activities window in the desktop window. This screen adds several features and allows Task Managers to:
Assign and confirm resources for a task
Start a task by changing the status
Enter the Estimated Time to Complete (Ettc).
The below visual illustrates how: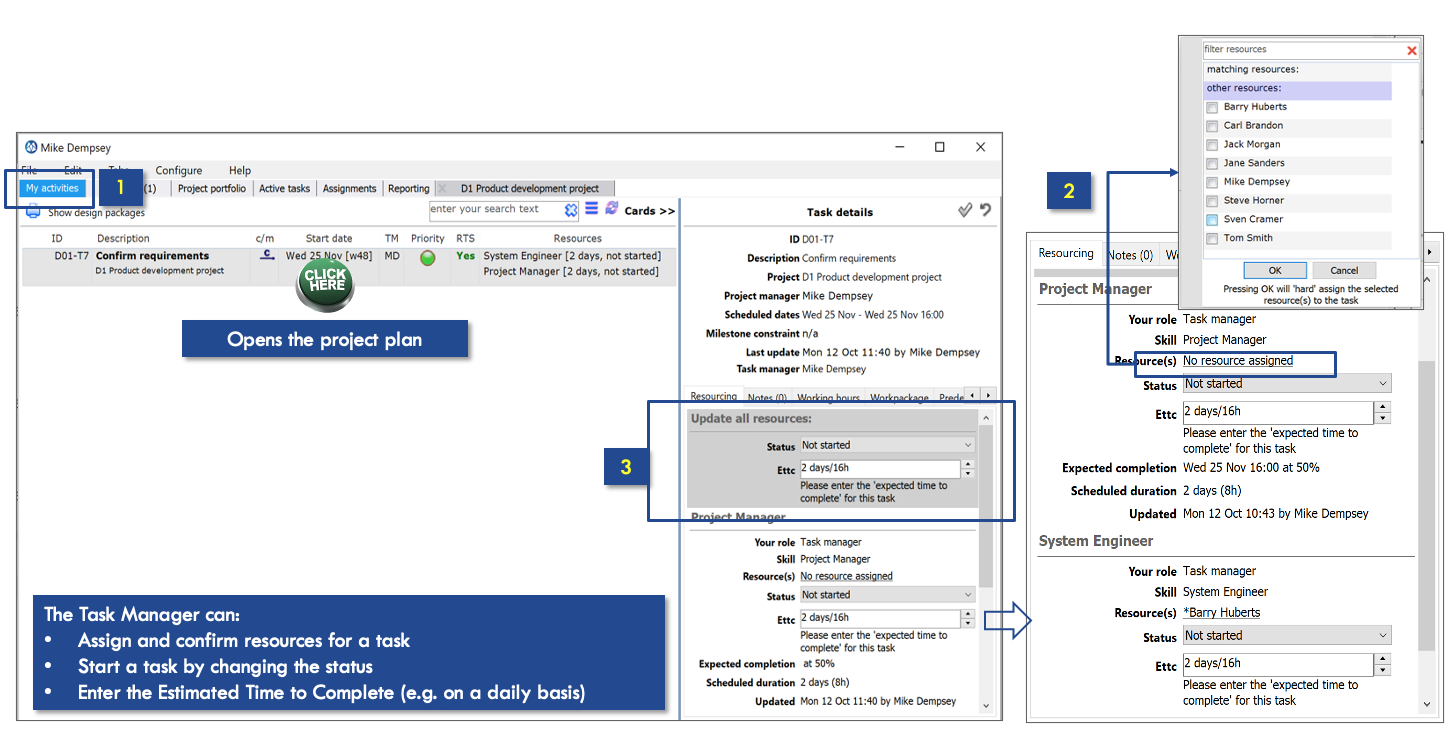 Tips and Tricks
Search and Replace (CTRL+F)
To quickly find projects or items you are looking for use CTRL+F to open the advanced search tool:

Mark Favorites
To highlight favorites or often used roles select the skills tab and select roles often used. These roles will now appear on top of the list when opening the skills tab: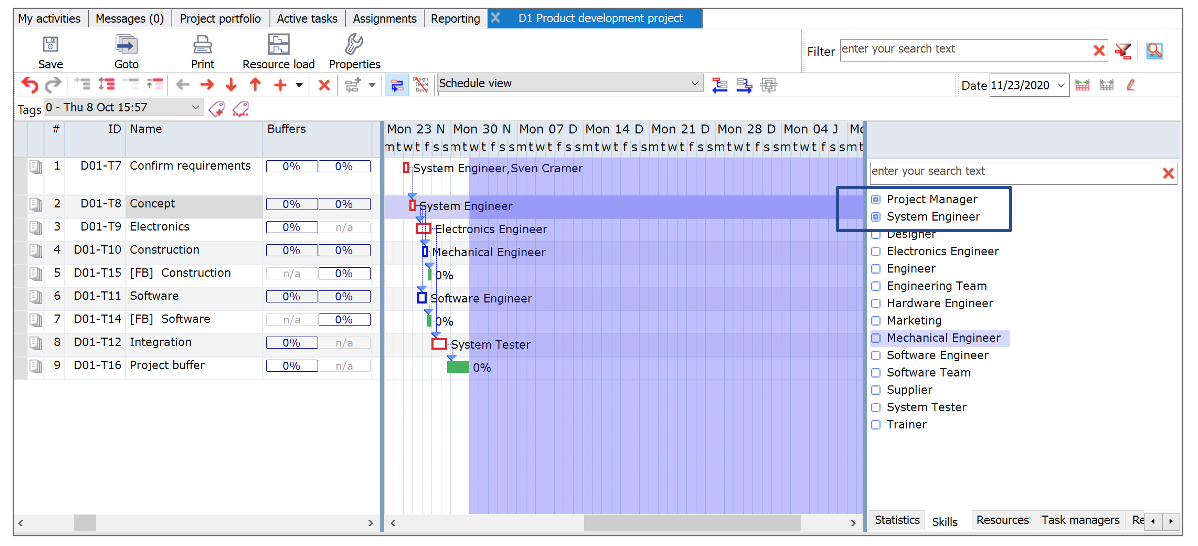 Basic Tips & Tricks
Explanation:
Filter or hide columns by right clicking on the column header.
You can copy a selection of tasks in the task column by using CTRL C and CTRL V.
You can zoom into the Gantt chart by clicking on it and using your scroll button.
Zoom in and out in the Gantt chart by moving the date lines (drag with mouse).
The viewing tab gives you an overview of different viewing options to gain different insights.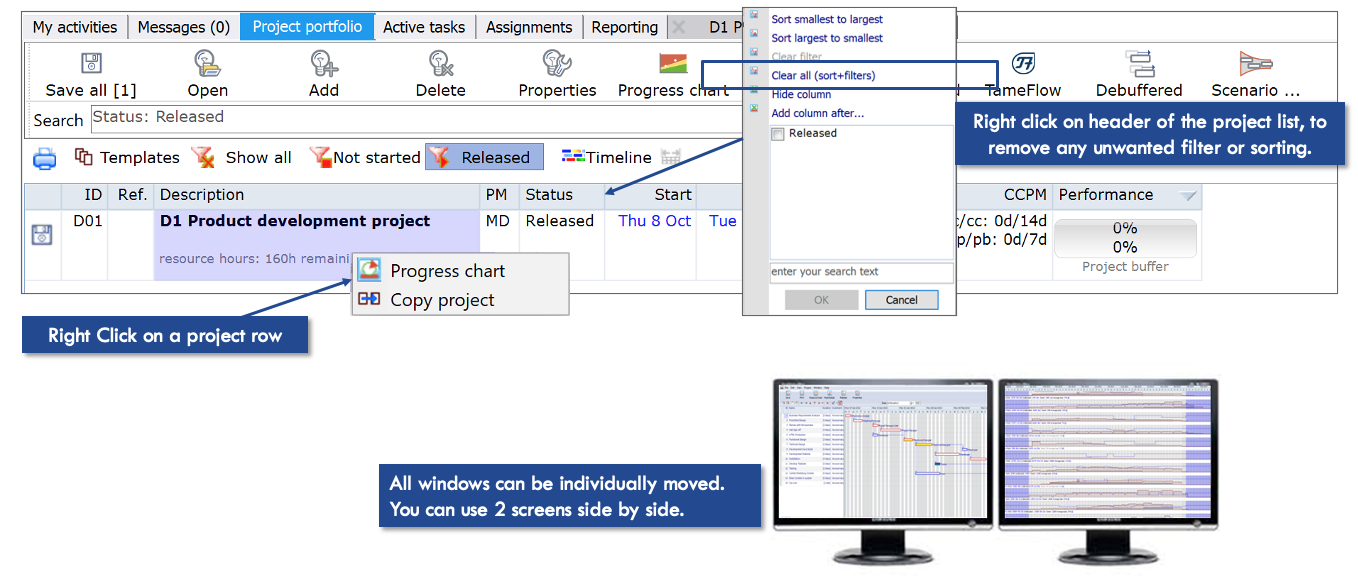 Explanation:
Right click on a project row to get quick access to the progress chart or to copy a project.
Right click on the column header to add/remove any filter.
Windows can be individually moved, making it easy to use two screens side by side.
Resolve Warning Messages
There are several reasons you could receive a warning message such as: plan cannot be calculated due to planning logic violations. See the following example: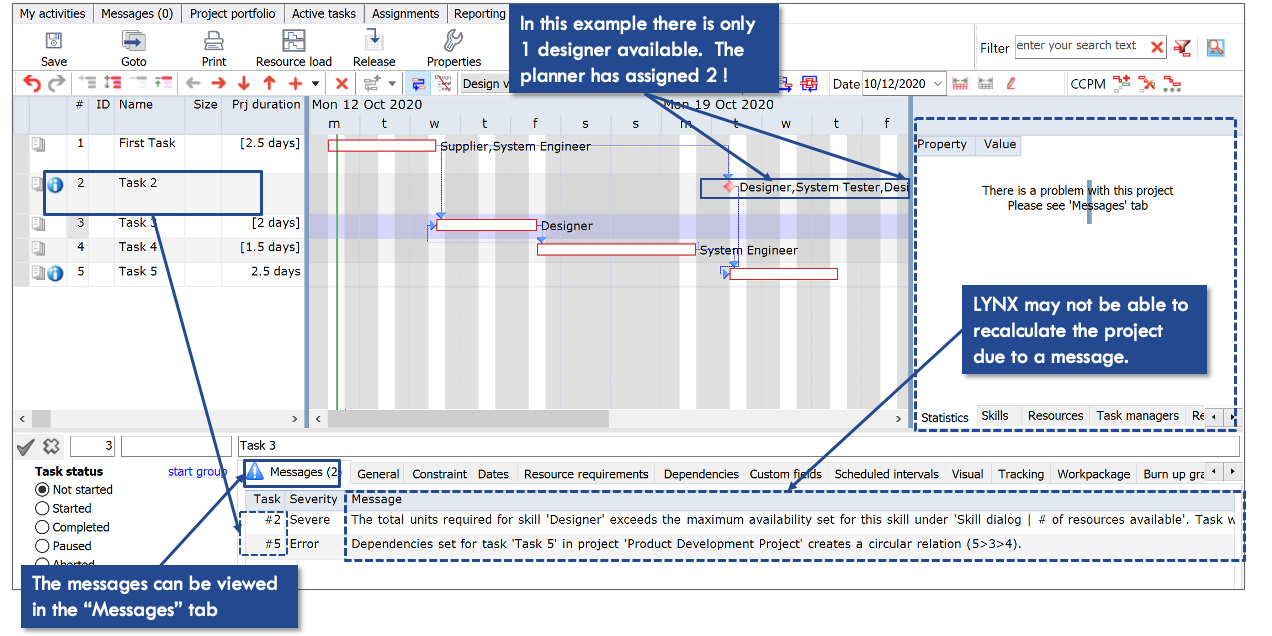 Explanation:
This example illustrates two warning messages. These are listed under the task properties messages tab. Also the project statistics box includes message "there is a problem with this project, see messages tab."
In this example two designers have been scheduled, but only one is available. The maximum availability has been exceeded.
The second error is related to task dependencies. A dependency may have been accidentally added in the wrong order and can be deleted to resolve the error.
Add Notes
In the project you can add notes to different tasks as required. Select the notes icon → the notes pop up will open (task details) → click on the plus icon to create a new note → select the type of note you want to add: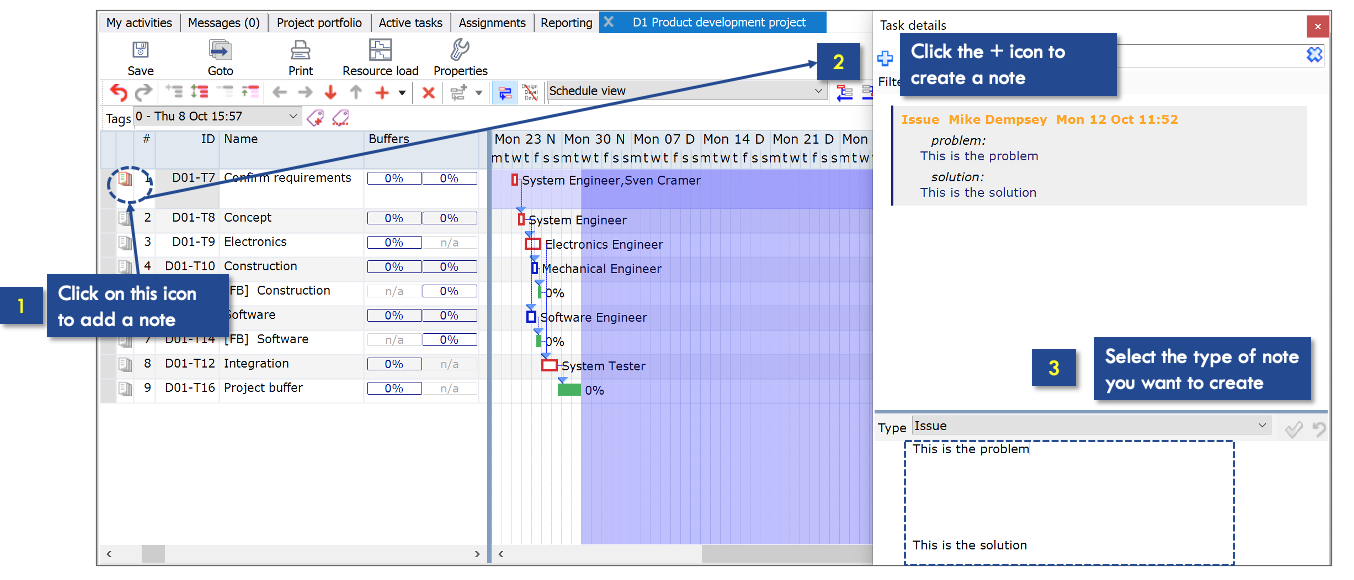 Additional Resources
Please also refer to the following articles for more in-depth information and quick insights into the following topics:
Download the manual!