Standards Installation methods of LYNX
Method 1: Download LYNX via weblink
Download LYNX via https://www.a-dato.com/download-lynx/
Or directly via: https://service.a-dato.net/Lynx/LynxSetup.exe
Both these options will download the LYNX application "LynxSetup.exe", into your default download folder.
Download LYNX TameFlow
LYNX TameFlow can be installed via the download options, through buttons and menu options that can be selected, when working in LYNX.
However, for users who only need to work with LYNX TameFlow a separate installer is available via the following download link: https://service.a-dato.net/lynx/tameflowsetup.exe
Don't use this link if you have downloaded LYNX already
Select Install Mode - "Install for me only"
After downloading has completed you will be asked to "Select install mode":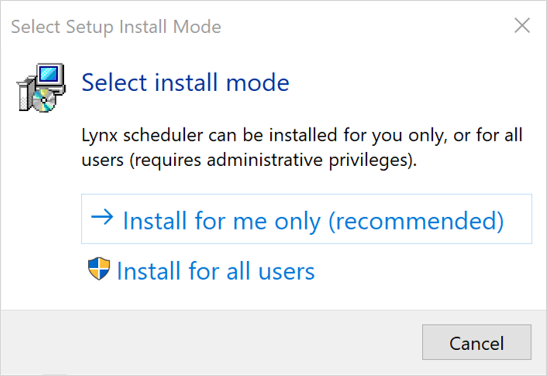 We recommend to select "Install for me only". This will install LYNX in your own user directory (located on your computer as shown in the following path: C:\Users\Your Name\AppData\Local\Programs\A-Dato\Lynx).
Both the installation of LYNX in a user-directory and the automated update process normally do not require any special "admin" rights.

The LYNX update process will automatically check the latest LYNX version in the location of the user-directory. Once a newer update is available the update process will happen automatically.
Method 2: Download LYNX via Microsoft App Installer for Windows 10 (from version 1903)
For Windows 10 (version 1903 and higher), LYNX is also available via the Microsoft App Installer. This download also includes LYNX TameFlow.
Step 1: Do you already have LYNX and LYNX Tameflow installed on your computer? First delete LYNX ánd LYNX Tameflow via Windows before you reinstall LYNX using this method.
Step 2:
Download LYNX via: https://service.a-dato.net/Lynx/Lynx.appinstaller
Open the downloaded file, and select install.
Or copy and paste the following link to download LYNX directly via:
ms-appinstaller:?source=https://service.a-dato.net/Lynx/Lynx.appinstaller
The Windows App Installer will automatically check if the latest LYNX version has been installed.
Additional Installation Options
The ability to install new software and also new software updates on the computer of a "company" user may be restricted as a result of the IT Policy of a company or organization. For example "admin" rights may be required to allow installation of new software, either in the user-directory or standard directory.
In this case the following options are available:
LYNX can be installed in one central folder, controlled and updated by "IT". A user can start LYNX via a link pointing to the LYNX application in this folder. The update of the LYNX version in the central folder, is done automatically
The LYNX Setup File has one of the highest Security Certificates - a possibility is that IT opens the installation and update process of LYNX specifically to LYNX users
Users may have the possibility to request for temporary admin rights, through an automated procedure provided by IT
Contact A-dato for more information and recommendations!