Project Management in Lynx
Lynx optimizes and synchronizes workflows and processes covering the total portfolio and project management landscape for small to large projects across project organizations. A-dato is focused on Critical Chain Project Management (CCPM), resulting in a stable and professional work environment, whereby teams are continuously supported with operational priorities for the synchronized execution of projects and work. In Lynx we define three layers (see figure):
Multi-Project Management;


Strategic priorities, using Pipeline & Scenario Planning;

Single Project Management;

Operational priorities, using CCPM and Load Factor Project Management (LFPM);

Workpackages;

Managing Workflow of individual tasks with cards (possibility to use Agile and Kanban).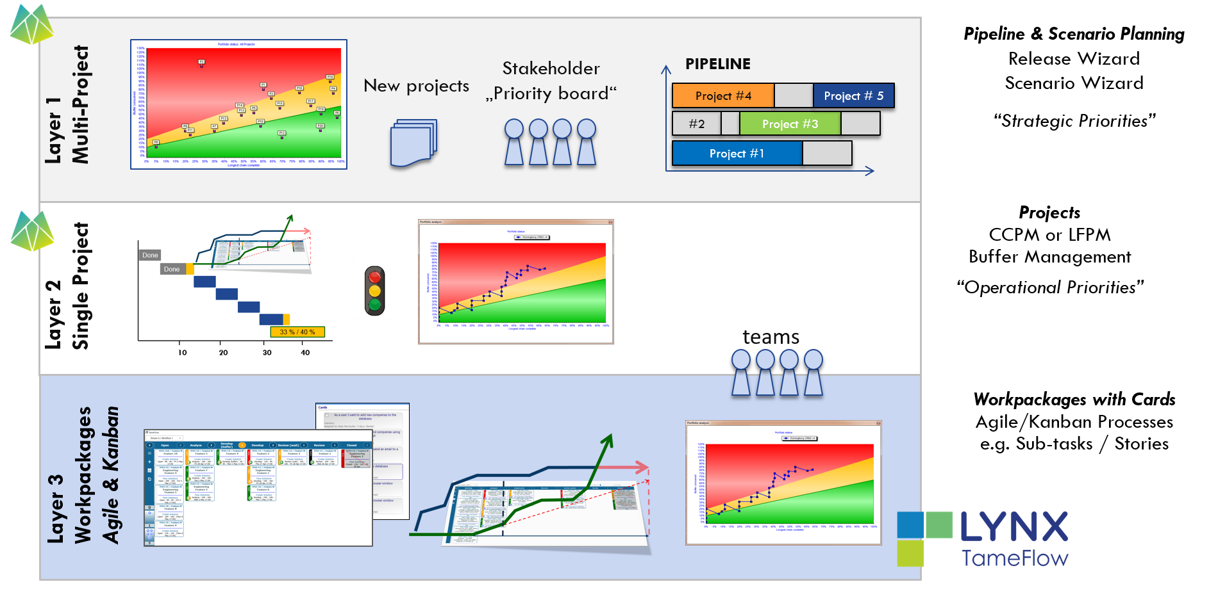 To get started with Lynx, please refer to Get Started with Lynx in 30 Minutes.
Single Project Management - Layer 2
This article mainly focuses on the second layer of Lynx: Single Project Management. Lynx integrates key attributes of the Theory of Constraints, under which buffer management. A visual system is used by designating colors to project management (green, yellow and red). This creates a clear visual overview to the need of the constraints and for all users involved.
Pooling of Contingency: Insurance Model
Background of buffer management
The figure below provides an example of a project in which six tasks of 10 days need to be completed. These tasks could actually be performed in around 5 days, but most people tend to increase their estimate to create a (private) buffer to finish their tasks, see figure:
In this case, the task would be achievable in 5 days, so an extra 5 days would be the personal buffer. If we remove this contingency per task and add this as a global buffer to the end of the project, this would give the following overview:
Besides, by removing the private buffer from the tasks the chance that all tasks are delayed decreases. Therefor, the buffer duration could actually be halved, giving this view:
Prioritization of projects
This buffer is needed to prioritize on what tasks a person should work on. When a project is started and progress is made, the progress is differentiated into percentage of the longest chain completed ánd the percentage of the buffer duration that is consumed. Therefor, we have the following figures that provide examples of the different colors.
Green


50 % progress on the longest chain / 15 % buffer used
Orange
33 % progress on the longest chain / 40 % buffer used
Red


55 % progress on the longest chain / 65 % buffer used
What can you do with
Red

,

Orange

and

Green

?

The next step is to to resolve day-to-day resource conflicts and to prevent multi-tasking. The colors indicate which tasks should be completed first in order for project to continue. The below image illustrates how to manage the queue based on operational priorities and the matching colors: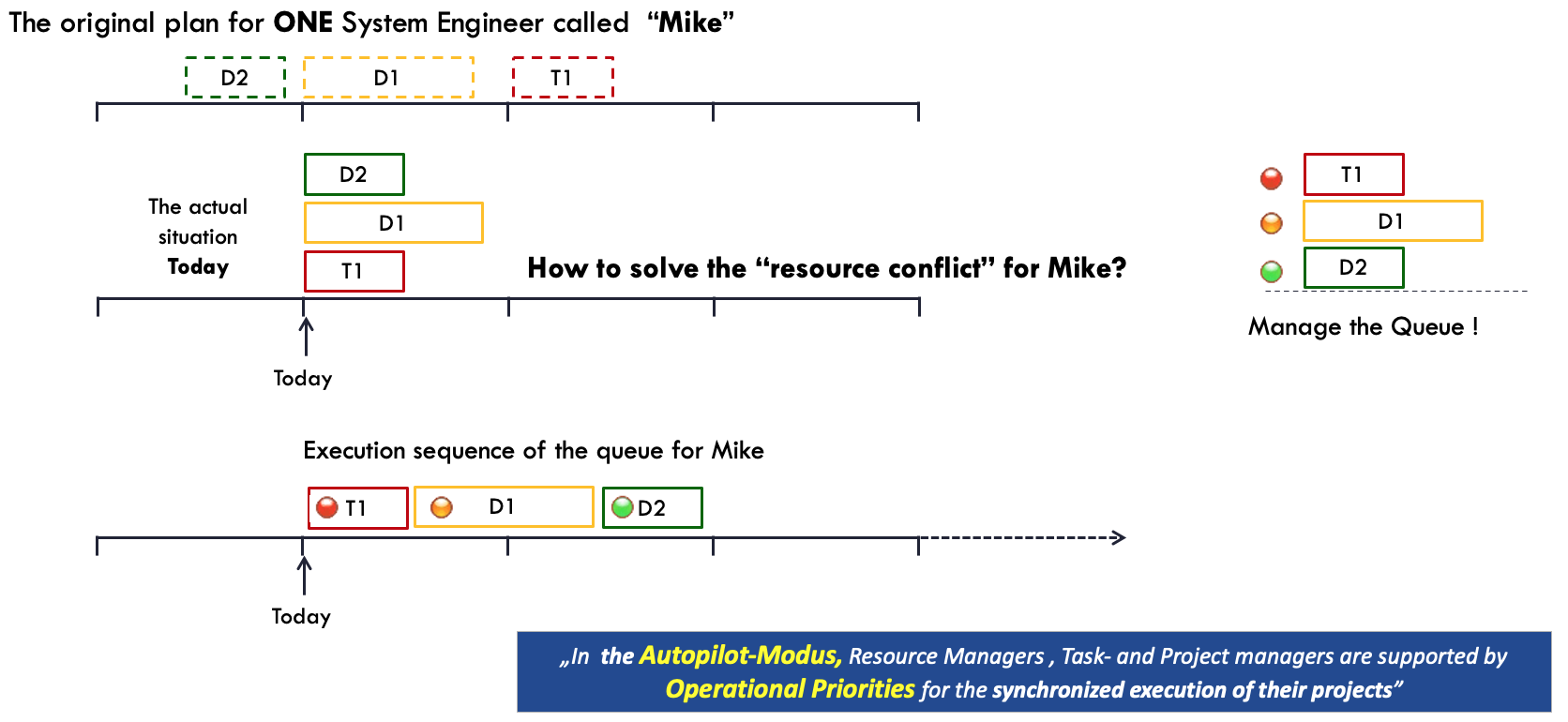 Manage priorities
In order to manage priorities, a fast feedback loop is needed. Teams working on projects must continuously update the "Expected Time to Complete" (ETTC) for each active task in Lynx. The below Google Maps image illustrates the ETTC or ETA which is continuously updated based on which route you take and what obstacles you may encounter: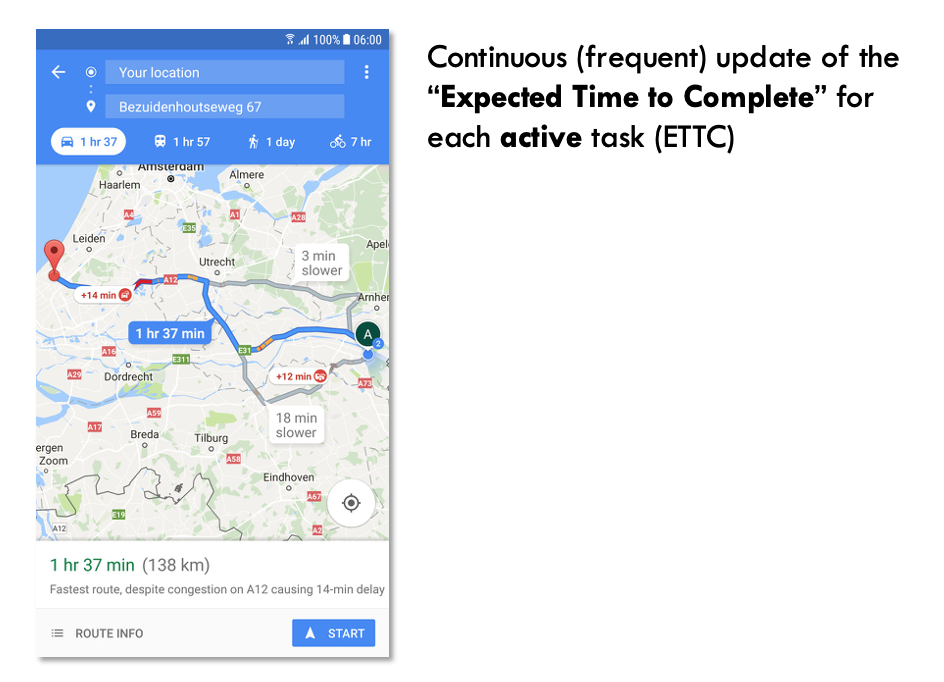 Besides, teams also need to ensure flawless handovers to ensure delivery is completed on time and each task is ready to start upon completion of the prior task.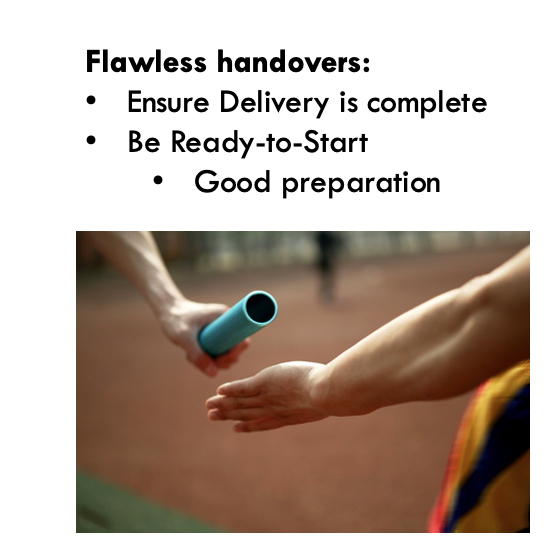 Lynx supports prioritization by providing colors within My Activities (To-Do list) as well. Your activities are listed here in red/orange/green to indicate which one needs to be completed first:
Multi-Project Management - Layer 1
Lynx also provides an insight into the status of all projects together through the progress chart functionality. All projects are projected into the below fever chart which calculates buffer consumed & longest chain completed to categorize projects by color: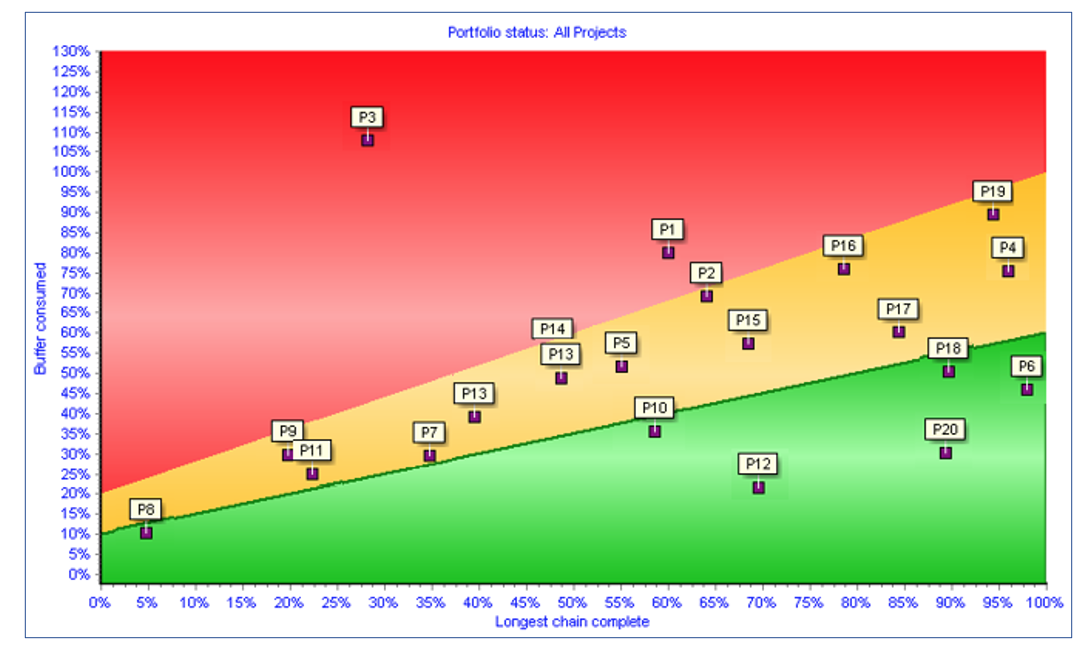 Lynx TameFlow - Layer 3
Layer 3 of Lynx project management is managed through the software Lynx TameFlow. It offers fully integrated Agile and Kanban workflows and manages tasks of individual projects.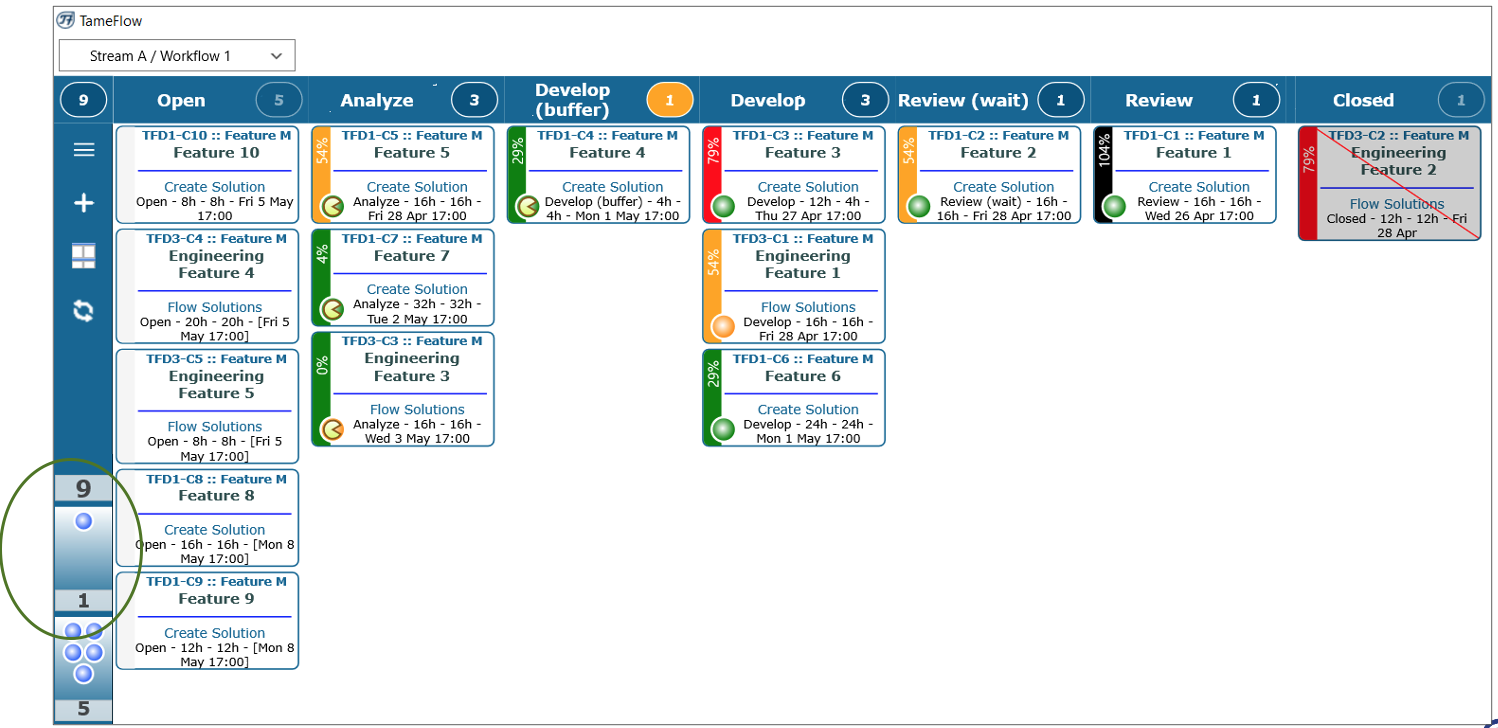 To read more about Lynx TameFlow, we refer to the articles:
Get Started with Lynx?
The following article will help you to get started with creating your own project: