Lynx
Community
In the top right, a new button has with a question mark has been added. If you press this button, a pop-up will be opened that shows our possibilities to help you with a problem/ question that you have at that moment:
There are three ways to reach out for support:
Help Center

Selecting one of the three hyperlinks will guide you to our Help Center in which you can also search for relevant articles for your subject.

Send us an email

Selecting this option will directly open your mail, which provides our support email address: support@a-dato.zendesk.com

If you contact us by email, please let us know in what space (and project) you are working.

Community


We have created a new community, which can be reached by:

https://www.community.a-dato.com, see figure:
Please

Sign Up

and discuss with other customers or with support about features, implementations and settings from Lynx or Lynx Tameflow.
Progress chart / Fever chart
We have added the possibility to show only the manual updates of a project. Some companies update their project once a week, which creates a chaotic overview of the developments of projects within the fever chart. Therefore, you can select Manual Updates within the fever chart, see figure: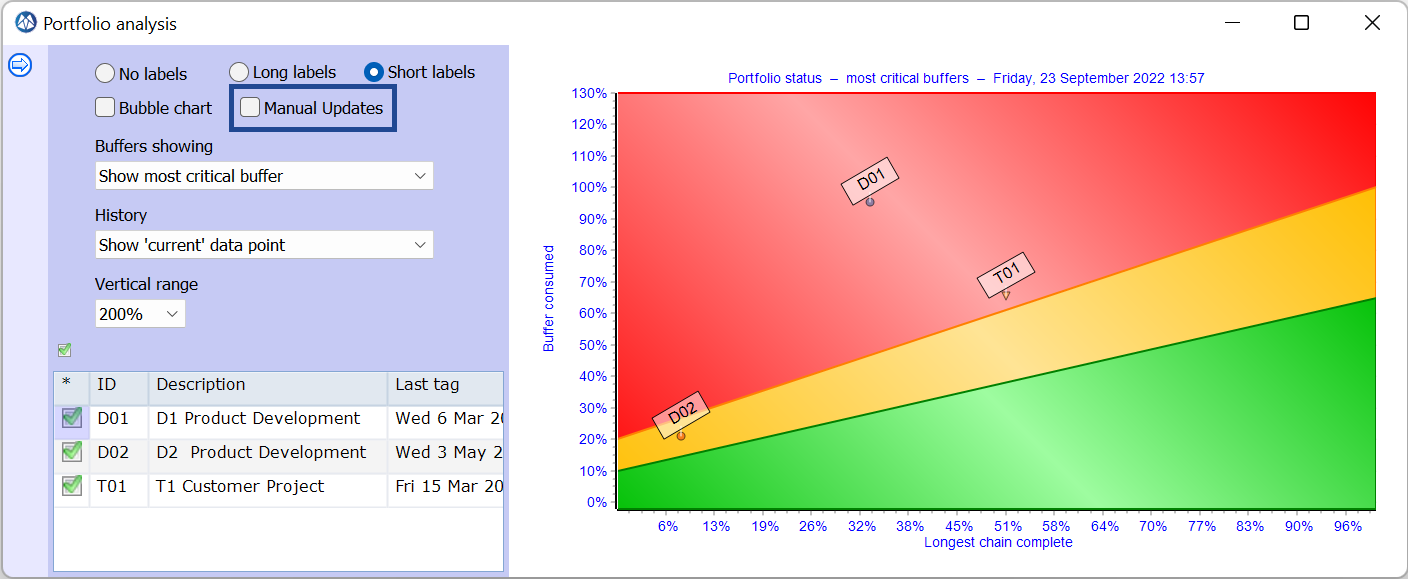 -- This feature is available now, but isn't available for tags in the past--
Open Database Connection (ODBC)
As mentioned in the release notes of August (2022), we have added the possibility to connect to an external database, for instance to retrieve Client Numbers, Client Names, information about addresses, etc. To set-up this feature, read the following article or contact us directly.
Connect multiple subresults to one result from the database
If you have a connection to an external database, you are able to retrieve multiple (sub)results for different (custom) fields within Lynx. For instance, if you have the Customer Number and you would like to have the Customer Name, the address and the Phone number from the database. You can use the Customer Number as the input and auto-fill:
This is connected to the Key from the Custom Fields Editor, which can also be made Read-Only (data can't be changed within these fields:

Which would give the following result within the Project Custom Fields, with the Lastname greyed-out because it's Read-only.

Test the connection and the SQL-statement
We also made improvements in testing of the connection to this database. You will receive a message if the connection is working properly, see figure:
Secondly, the SQL-statements could be tested within the Unit-of-Measure table. It will tell you if the SQL-statement gives you a result from the database. If correct: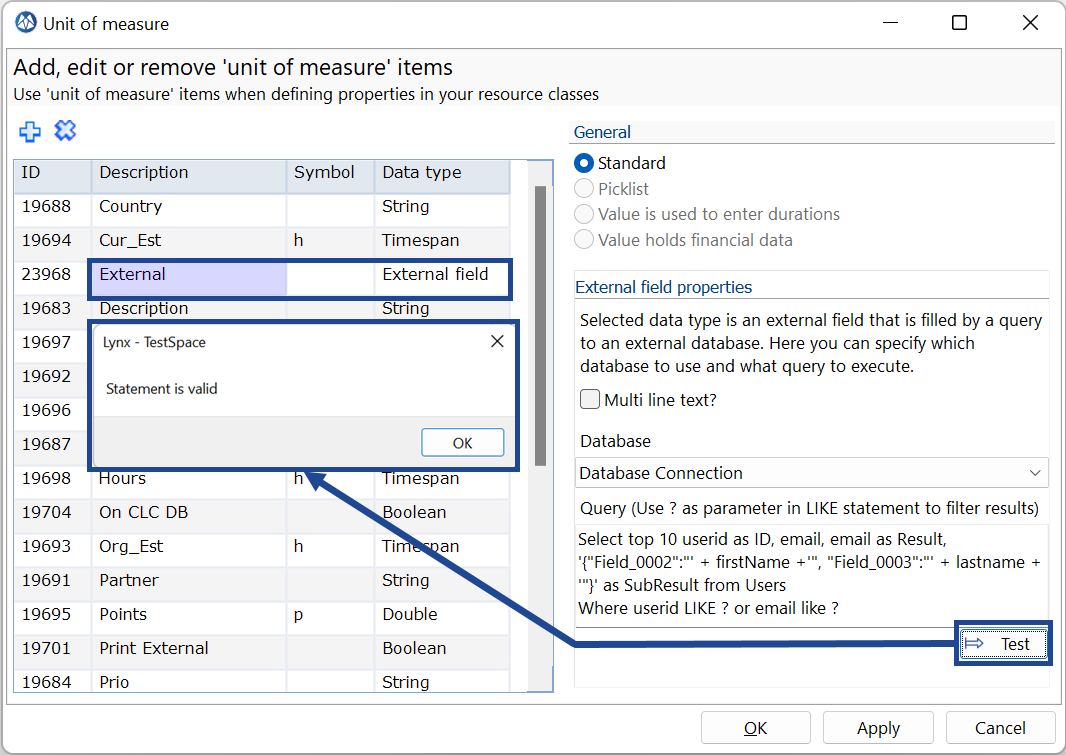 Improvements:
Resource load:

Filters:

Select all behavior has been improved

Task duration:


Limit:

There was a limit on the task duration because of scheduling reasons in the past, but the limit has been removed.
LYNX Essential Flow
Over the last few months we have been adding functionality, to enable Portfolio Management at "Stage Level", with as input a high level model of a project:
Pre-Stage (or Lead)
Critical Stage
Post-Stave (or Lag)

LYNX for Essential Flow is created to allow organization to get started with Portfolio Planning and Execution, but without the need for or effort of adding and managing detailed project plans first.
LYNX Essential Flow Main Components
LYNX for Essential Flow has the following main Components:
LYNX Import Wizard for Essential Flow
LYNX Scenario Wizard for Essential Flow
LYNX Essential Flow Execution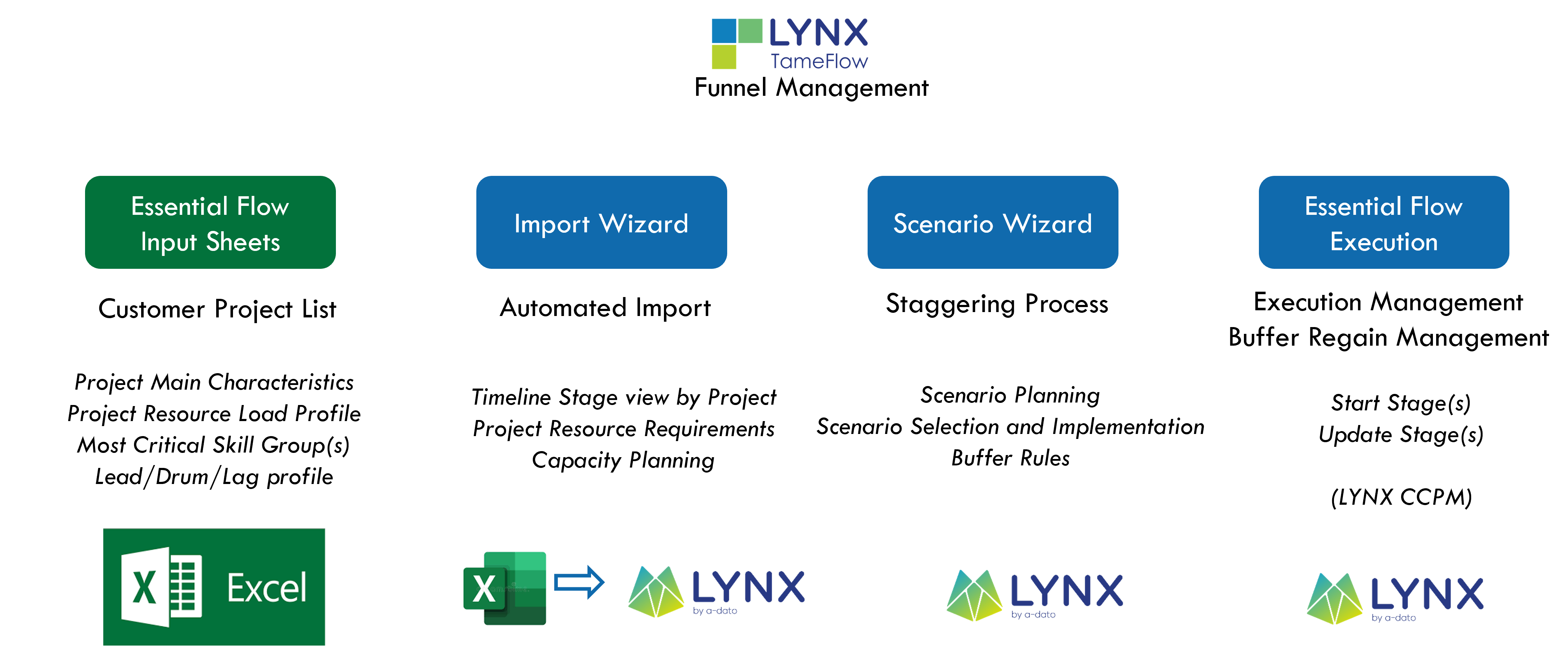 LYNX Essential Flow Process Overview
From a simple Excel Essential Flow Input sheet, a portfolio view of the projects is created, listing all imported projects. With the LYNX Scenario Wizard you have the possibility to create scenarios and simulate scenarios:

How to get started with Essential Flow?
Just contact us and we are happy to get you started with LYNX for Essential Flow and send you more information!